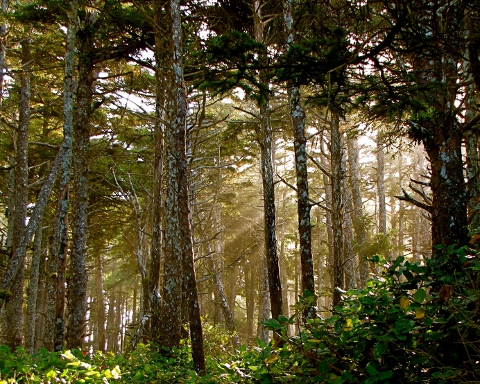 Photo: Judith Kennedy
Imagine yourself by a cozy woodland cabin surrounded by the stunning hues and textures of the forest. At first glance, the woodland is still and quiet, but with some patience and curiosity, you notice there is always something to stimulate the senses. You inhale the fresh scent of leaves and balsam sap after a rain, or the sweet fragrance of an ostrich fern on a sunny day. You find soft mosses, remarkable patterns carved in a fallen log by beetles, hollows in snags that house cavity dwellers, bizarre-looking fungi and lichens and tasty blackberries near the forest's edge. You hear many bird songs and red squirrels calling out to claim their territory. You spot a wood duck in a swampy area or a brown creeper making its way down a tree trunk. You notice an owl pellet or the tracks of a moose, coyote or hare. A lifted rock or log reveals a red-backed salamander and some busy invertebrates. Fall means rich, fiery colours and humble earth tones as the leaves of deciduous trees transition. In spring, you are treated to some of the prettiest wildflowers, woodland orchids and lilies in delightful pastel shades.
If you're left wishing that you had your very own cabin in the woods, consider recreating woodland habitat right on your property. This could be anything from a tree and some spring flowering perennials to a small wooded area. For those of you wishing to restore large tracts of land to their original forested state, consult your provincial Ministry of Natural Resources and your municipality to learn about programs offering expert advice and subsidized pricing on plants.
Getting Started
To create a natural woodland habitat, you'll want to see what a natural forest looks like in your area. Venture out and learn which tree, shrub, fern and wildflower species are found in your region. Bring along the following:
• Field guides
• Binoculars—these are optional, but they are great for identifying high-up leaves in tall trees and any neat birds that pique your interest
• Magnifying glass or hand lens—these are optional, but they may come in handy for identification and looking at mosses and lichens
• Digital camera—if you're unsure about a plant, snap a photo and search online or ask an expert rather than picking it or taking a big clipping. Removing parts of the plant can be harmful to the its health; plus, it may be a regionally rare species.
• A plant expert, if you're lucky enough to know one!
While you're out observing, notice how the forest is stratified, or layered. For a simple visual, imagine a cross-sectional view of a forest divided into three layers. The tallest trees make up the top layer, called the canopy; the shorter trees and/or shrubs make up the middle-storey; ground covers, ferns and perennial flowers make up the under-storey. When planning your woodland garden, you'll want to include plants from all three layers.
There are countless forest types and variations in Canada. In addition to this diversity, keep in mind that local and regional conditions add further variables, shaping the look of the forest or woodland; areas with shallow soil or strong winds can cause normally giant trees to grow small and shrub-like. Other conditions may affect the thickness of the canopy layer, which influences the plants that can grow below. Very generally speaking, in Eastern Canada you might find sugar maple and American basswood in the canopy, beaked hazelnut in the middle-storey and large flowered trillium in the under-storey. Toward the West, you may see lodgepole pine in the canopy, perhaps some juniper or common bearberry in the middle-storey with sphagnum moss at ground level. In Northern forests across the country, you might find white spruce in the canopy, highbush cranberry in the middle-storey and bunchberry or twinflower in the under-storey.
Be aware that not all the species you'll come across are native; some may actually be exotic (not originally from your area) and/or invasive (will take over a desirable plant's space and nutrients, then spread). To best capture the needs of local wildlife plant native species where possible, talk to local naturalist clubs about your project; they are often fountains of information.
Choosing the Plants
Now that you have an idea of which trees, shrubs and wildflowers to choose from, read about the plants in your area to determine which ones will do best on your property. Consider the following:
• Space. How tall will a certain tree grow, and how large a circumference will a shrub have once it is fully grown?
• Soil quality. Woodlands typically have very rich, moist soils from the natural mulch and composting, which occur as plant materials fall to the ground and gradually decompose, returning nutrients back to the forest. If your soil needs conditioning, add compost and layer on leaves to recreate the conditions of a nutrient-rich forest floor.
You may also want to ensure the pH level of your soil matches that of the species you choose to plant. If you aren't sure, visit your local gardening or hardware store to purchase a soil-testing kit. Again, look to nature to recreate the conditions. Plants that prefer a slightly more acidic environment, for instance, may do well under a coniferous tree like pine as its dropped evergreen needles will create a more acidic environment.
• Lighting. Many plants are versatile in their lighting needs, but to help them thrive, try to match their lighting needs. Certain plants flourish in the conditions at the edge of a forest, where there is more light. Others only do well deep within a shady old-growth forest. You may wish to add some plants only once your other plantings have taken off. Alternatively, if you'd like some colour while your trees and shrubs grow, plant perennials—in the bed or in containers—that do best in sunnier spaces and move them to other beds as your trees and shrubs mature.
Also, consider the density of growth and the tree composition of a given stand. For example, less sunlight will reach the floor of a dense conifer forest stand since the trees are closer together and the needles of a conifer are not lost all at once like the leaves of a deciduous tree. This means more shade year round in a coniferous forest. A deciduous or mixed forest typically receives more sunlight in early spring before leaves have fanned out. Sunlight is able to reach and warm the forest floor, making way for spring ephemeral flowers and other under-storey plants. If you're planting just a few trees and shrubs with forest flowers beneath, the dynamics of layered forest lighting will not apply. If this is the case, make sure the plant's light requirements match the lighting in your yard.
• Wildlife visitors. List the animals in your region that you hope to see visit your property (within reason!) and plant for them. Plant oak trees to feed hungry jays. If you love the plumage of a cedar waxwing or enjoy the company of catbirds, include some shrubs with berries for them. Dogwood or cherries will attract an array of other fruit-loving birds. Foxes like fleshy fruit like apples, grapes and blackberries. Chipmunks enjoy nuts and seeds from woody plants like maple and basswood. Remember that wildlife will get the most out of a great diversity of plant species; this will also bump up the amount of wild traffic to your yard.
Now that you have figured out which plants are compatible with your property, choose favourites that you want include in your woodland garden. For a natural look, mimic the groupings of plants that occur in nature and don't bother precisely measuring out an exact location for each plant. If you'd like some order but still enjoy a natural look, scatter your trees and shrubs but arrange under-storey perennials and ground covers more formally, like in a garden.
Please do not remove vegetation from the wild to add to your property. You will disrupt that natural area and add pressure to the health of that ecosystem. The best way to start your woodland garden is to purchase plants from a local native-plant supplier, check our website for a list of some native-plant suppliers across Canada. Sometimes municipalities have trees for home owners to take home and plant. Contact your municipal office to see if there is any such program in your community.
Plant Away
• Choose whether or not you'll remove grassy areas. If the area you're planting is expansive, you may decide to skip this step and go straight to digging holes for each tree or shrub and adding compost directly to the hole.
• For a moderate-sized planting, prepare the area to be planted with organic matter like compost or manure and a thick layer of dried leaves for mulch and nourishment.
• Lay out the plants approximately where you're planning to put them and make any necessary adjustments.
• For added interest, position rocks and logs to your woodland floor. These features can provide great habitat for salamanders and insects and cover for small mammals.
• Keep in mind that this garden will progress on its own. The area you've planned for a walkway or bench may actually fill in with growth like you never thought it could.
• Plant your chosen trees, shrubs, ground covers and flowers. As mentioned above, you may not be able to put in all the plants you want straight off the bat if the area is too sunny. Wait until the initial trees and shrubs grow before planting species that need more shade. If you can't want to wait to see your pretty woodland flowers bloom and you have an empty shady spot in your garden, place them there while waiting for the rest to grow.
• Water your plantings until they are established.
*Note: Don't be afraid to spread the workload over the course of a few years for larger-sized projects. Divide the area into a few sections and complete a section each year over the course of a few summers.
Adapting Woodland Garden Projects
Woodland habitat can be planted at any scale, so adjust for the size that's right for you. If you don't have much space or are looking for an alternative shade garden, you can still bring bits of woodland to you. You'll want to choose and research native plants and follow the advice above, but you may not be able to incorporate all of the layers found in typical woodland. If you have a smaller plot of land, choose a few shrubs or trees and then plant woodland flowers among the shrubs and at the base of trees. For an even smaller shady space, focus only on ground covers and wildflowers. You'll witness the first signs of spring right outside your door; most woodland flowers are spring ephemerals. In your garden, ensure that these plants still have a source of shade and are well mulched to mimic the conditions of woodland soils.
Maintenance
• Each fall, be sure to add more organic matter and leaves to maintain a rich, moisture-retaining soil.
• Leave fallen leaves, twigs and branches where they fall (as much as possible) to decompose and return nourishment to the soil, provide niches for insects and offer materials for nesting animals.
• Expect a dynamic system—some plants may emerge where they weren't before, and new species may pop up from adjacent areas. Decide how much effort you want to put into maintaining a certain look. A more natural look requires a lot less fuss.
• Weed out any invasive or exotic species as you recognize them; otherwise they may take over entire areas of your woodland garden and spread their seeds to wild areas.