The two zone maps we offer here can be valuable aids for plant selection and garden planning. The plant hardiness zone map is the one most people associate with gardening, but the Canadian ecozones map can also be helpful for determining the native vegetation and wildlife associated with your geographic area.
Plant hardiness zone map
The hardiness or climatic zone map of Canada divides the country into ten zones. These zones are rated from 0, in the coldest region, to 9, in the mildest region. Ratings are based on a number of climatic conditions, most notably the coldest temperature reached and the length of the growing season. Gardeners use this map to establish which plants will survive in their "zone" based on the rating the plant has received. If your garden is in zone 5, for example, you could choose plants rated from zone 0 to zone 5.
One limitation of the hardiness zone map is that any zone can have areas within it which merit a different rating based on their local conditions or microclimate. In other words, you may have an area within your garden that deserves a higher rating due to more localized conditions. Perhaps shrubs protect one corner of your yard from cooling winds. Or maybe your property is close to a body of water that moderates the local climate. These conditions could allow plants of a higher zone to survive in certain areas of your garden.
Also, there are many conditions that need to be considered in choosing plants for your garden. Hardiness rating is just one, and not always the most important. If the soil conditions are not right, or if there is too much or too little moisture, this could have a more crucial effect on whether a particular plant thrives in a specific part of your garden. The best way to ensure that a plant is hardy is to choose those that are native to your local region.
Ecozone map
Ecozones represent areas of the country that can be defined by their general living and non- living characteristics. Living characteristics include vegetation and animals (including humans), while non-living characteristics include features such as climate, soil, water, and general landforms. Canada has been divided into 15 terrestrial ecozones.
Knowing your ecozone can help you recognize the natural features, including native plants and animals, of your area.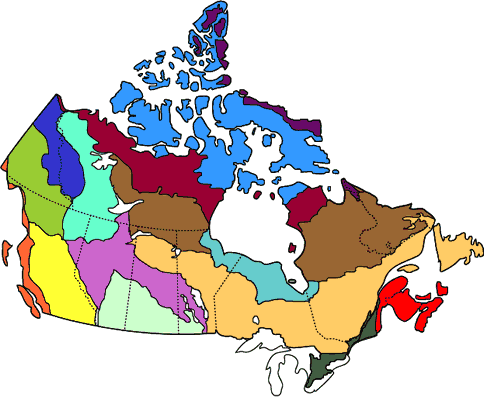 Taiga Cordillera - The Taiga Cordillera is an area of steep mountains, wild rivers, and cascading waterfalls. It encompasses a patchwork of habitats with arctic tundra of lichens and sedges in its northern reaches, alpine tundra with stunted shrubs at higher elevations, extensive wetlands to the northwest and open woodlands of spruce and birch to the south. This diversity allows it to support a great variety of wildlife. Dall's sheep, woodland caribou, mountain goats, grizzly bears, and wolverines are some of the area's mammal species. The internationally recognized wetlands of Old Crow's Flats are vital to thousands of Canada Geese, canvasback ducks and other waterfowl.
Boreal Cordillera - This ecozone, which covers northern British Columbia and southern Yukon, is made up of mountains, valleys and lowlands. Winters are long and cold while summers are short and warm. With the moderating effect of the Pacific Ocean, the mean annual temperature ranges from 1 - 5.5 C. Permafrost is widespread in alpine and northern areas, leading to limited vegetation consisting mainly of shrubs, moss, and lichen. In the valleys and lowlands, forests of White Spruce, with some pine and aspen trees, dominate. Typical mammals of this ecozone include moose, mountain goats and arctic ground squirrels. Rock ptarmigan, spruce grouse, red-breasted nuthatches and boreal chickadees are some of the more characteristic bird species.
Pacific Maritime - This ecozone of mountains, fjords and valleys, consists of the Pacific coast of mainland British Columbia and southwestern Yukon and the marine islands of British Columbia. With the warmest and wettest climate found in Canada, this ecozone supports a rich and diverse collection of ecosystems. In the lower coastal areas are found the majestic temperate rainforests famous for their huge and ancient trees. In these areas you will find western hemlock, red cedar, Sitka spruce, and Douglas fir (in southern areas). In areas of increased elevation mountain hemlock dominates the forests. The last remnants of the highly endangered Garry oak ecosystem are found in the Gulf Islands and Saanich Peninsula. Black-tailed deer, mountain lions, elk, wolves and otters are some of the mammals typical of this ecozone. The American black oystercatcher, chestnut-backed chickadee and tufted pigeon are birds found only in this region. The ocean is home to a rich diversity of marine life including northern sea lions, harbour seals, beaked whales and sea otters.
Montane Cordillera - The montane cordillera ecozone covers much of British Columbia and the southwestern portion of Alberta. It is an area of great diversity with grasslands, sagebrush, coniferous forests, and tundra which vary from dry to wet and hot to cold. The dry southern interior is characterized by sagebrush and rabbitbrush, but the grasslands have all but disappeared. Forests of ponderosa and lodgepole pine populate lower slopes and rolling plains with western hemlock and red cedar dominating the wetter areas. At higher elevations the forests turn to spruce and fir trees with Lodgepole pine in drier areas, while the vegetation of the alpine areas are limited to lichens, herbs, and shrubs. Due to the variety of habitats there is also a large assortment of wildlife species. Alpine areas support mountain goats, willow ptarmigan, and rosy finch. Forested areas are home to species such as marten, wolverine, fisher, and pileated woodpeckers. Northern flickers, common poorwill, and yellow-pine chipmunks are some of the wildlife that inhabit the parklands of ponderosa pine. The dry southern grassland regions support short-horned lizards and burrowing owls. Grizzly and black bears, mule deer, and elk are other characteristic mammals of this ecozone.
Boreal Plains - The boreal plains ecozone covers much of Alberta and the middle areas of Saskatchewan and Manitoba. The area is one of plains and valleys. Winters are cold, averaging -17.5 to -11 C, and summers fairly warm. Much of it is forested with a majority of spruce, balsam fir and Jack pine. Broadleaf trees, such as aspen and poplar, become more common in areas transitional to the prairie ecozone. Fire plays an important role in shaping the landscape. Widespread human activity, such as logging, mining, and agriculture, has lead to shrinking wildlife habitat resulting in a number of native species, most notably the Whooping Crane, becoming threatened or endangered. Other wildlife native to this area are timber wolves, black bears, lynx, and muskrat. Local birds include the American redstart, boreal owl, and Canada warbler.
Taiga Plains - The vast majority of this ecozone lies in the Northwest Territories with a portion covering northeast British Columbia and northern Alberta. It is an area of plains which encompasses the Mackenzie, Canada's largest river, and the Peace-Athabaska Delta, a globally significant wetland. Winters are long and cold, with snow and ice for six to eight months, followed by short, cool summers. With permafrost underlying much of the area, the soil's productivity is diminished so that it is dominated by plants adapted to these poor conditions. Slow-growing open forests consist of black spruce along with species such as Jack pine, tamarack, and paper birch. Shrubs are plentiful and include Labrador tea, cranberries, blueberries, and willows. Lichens and mosses form most of the groundcover. Common mammals include woodland caribou, marten, and the world's largest herd of wood bison. The red-throated loon, fox sparrow, hawk owl and northern shrike are characteristic bird species.
Prairie - As the breadbasket of Canada, this zone is dominated by flat plains, the majority transformed by agriculture. The grassland areas of this zone consist of tall-grass, mixed-grass, and short-grass prairie. Seventy-five to over 90% of these ecosystems have been lost. The natural vegetation includes spear and blue grama grass, sagebrush, and in the drier areas prickly pear cactus. To the north, Aspen Parkland, with trembling aspen and balsam poplar, forms the transition zone to the boreal forest. Also under threat in this zone are the millions of small wetland areas critical to the well-being of North America's waterfowl. The loss of much of this area's natural habitat has resulted in a disproportionate number of threatened and endangered species of wildlife such as the burrowing owl, mountain plover, and swift fox. Other wildlife native to this area includes mule deer, badgers, northern pocket gophers, ferruginous hawks, and brown thrashers.
Taiga Shield - One of Canada's largest ecozones, the Taiga Shield covers areas east and west of Hudson Bay in the Northwest Territories, Alberta, Saskatchewan, Manitoba, Quebec and Labrador. The area experiences short, cool summers and long, cold winters, with low to moderate precipitation. Millions of lakes and wetlands govern the landscape, attracting thousands of waterfowl in the spring. Much of the forest is open and trees often stunted due to the widespread permafrost and cold temperatures. Black spruce and Jack pine dominate, though trees such as trembling aspen and white birch can be found on upland sites. Fire plays a key role in shaping the landscape and diversifying the available wildlife habitat. Arctic fox, snowshoe hare, weasel, and moose are some of the mammals of this zone. Birds found here include the red-throated loon, arctic tern, and gray-cheeked thrush. Walrus and seals can be found enjoying the marine coasts.
Boreal Shield - This zone covers a roughly u-shaped area from Alberta to Newfoundland making it the largest ecozone in Canada. It experiences short warm summers and long cold winters which are moderated somewhat in the Atlantic coastal regions and along the Great Lakes. Forests are the predominate cover and consist mostly of spruce, balsam fir and Jack pine. Poplar, trembling aspen and paper birch are some of the broadleaf trees which can be found in the more southern areas of the zone, along with the various pines. White-tailed deer, black bear, wolves, raccoons, and bobcats are some of the mammals associated with the Boreal Shield. The numerous freshwater lakes attract masses of waterfowl each spring, including buffleheads and ring-necked ducks. Other local birds include great horned owls, evening grosbeaks, and white-throated sparrows.
Hudson Plains - The Hudson Plains ecozone, in northern Ontario and parts of Manitoba and Quebec, is an area of wetlands. This fact, combined with the generally cool climate, means that vegetation is somewhat limited. The northern part of the ecozone is largely treeless, though areas farther south are able to support open forest. Wet areas produce sedges, moss and lichen while more southern wet locations can also maintain some willow, tamarack and black spruce. Higher and drier locations are slightly more productive with shrubs such as crowberry and blueberry to the north with the addition of white spruce in the more southern areas. The extensive wetlands of the Hudson Plains attracts millions of migratory waterfowl, such as snow geese, Canada geese and king eider ducks. Mammals which can be found here include moose and black bear, though smaller mammals such as muskrats and weasels are more common.
Mixed Wood Plains - Smallest of Canada's terrestrial ecozones, the Mixed Wood Plains is an area of fertile plains and rolling hills which enjoys a mild climate and abundant precipitation. Due to these blessings, this area, despite its small size, houses almost half of Canada's population. Though originally forested, most of the natural habitat has been lost to agriculture and development so that it is now home to over half of Canada's species at risk. The few remaining fragments of original forest boast Canada's largest diversity of tree species, including white and red pine, oak, elm, maple and birch. The Carolinian forest to the south, one of our most vulnerable ecosystems, has even greater diversity including such rarities as tulip tree, red mulberry, and cucumber-tree. White-tailed deer, black bears and other larger mammals native to the area's forests are rapidly dwindling in number as their habitat disappears. Whitefish, sturgeon and other aquatic species have also suffered due to the degradation of their habitat through pollution, siltation, and invasion by zebra mussels and other alien species. However, some wildlife, such as raccoons, black squirrels, and groundhogs, have been able to adapt and even thrive in the face of man-made changes.
Atlantic Maritime - The provinces of New Brunswick, Nova Scotia and Prince Edward Island, along with the Gaspé and southeastern regions of Quebec make up the Atlantic Maritime ecozone. This area experiences a cool, moist climate due to the strong influence of the Atlantic Ocean. Mean annual temperatures are 3.5 - 6.5 C with precipitation levels of 900 to 1500 mm per year. Three quarters of this ecozone is forested, although most of this is at least secondary growth due to losses to forestry and agriculture. The forests are generally a mix of deciduous species, such as maple, beech and birch, and coniferous species such as spruce and balsam fir. Blueberries, willow, and pin cherry are some of the more common shrub species, while wildflowers include lady slipper, star flower and wild lupines. Characteristic mammals include the white-tailed deer and bobcat. The rich marine areas of the Atlantic Maritime zone support a rich diversity of life including northern bottle-nosed whales, Atlantic puffins, and scallops.
Southern Arctic - The Northwest Territories and Nunavut encompass most of this ecozone with a much smaller portion to the east of Hudson's Bay in Quebec, and a slice in the northern portion of the Yukon. This area experiences long, cold winters and short, cool summers with a mean annual temperature of -11C and only 200 - 500 mm of annual precipitation. The harsh climate and year-round presence of permafrost do not create an environment conducive to tree growth. Therefore, the area is dominated by lichens, sedges and low shrubs, such as Labrador tea and dwarf birch. Typical mammals of the ecozone include brown lemmings, arctic ground squirrels and large numbers of both woodland and barren-ground caribou. The area is an important breeding and nesting ground for many migratory birds, including red-throated loons, snowy owls, and snow buntings.
Northern Arctic - This large ecozone covers most of the arctic islands, northeastern District of Keewatin, and northern Quebec. The Northern Arctic is one of the largest arctic ecosystems globally, and the coldest and driest part of Canada. Mean annual temperatures range between -17C in the northern parts and -11 C in northern Quebec. Winters are long and dark, with snow usually remaining on the ground for 10 months of the year. Due to the harsh climate, plant life is limited to sparse areas of mostly moss and lichen with some stunted shrubs. Arctic poppy, moss campion, and mountain avens are characteristic plants. Polar bears and muskoxen are characteristic species, while Peary caribou are found only in the high arctic islands. In the spring migratory birds, such as brant and eider ducks, arrive for the breeding season. The ocean is home to walrus, narwhal, and beluga whale.
Arctic Cordillera - The Arctic Cordillera is a mountainous area of ice and rock. Due to the cold dry climate, harsh winds, and limited soil, plant life is scarce. It tends to be found huddled in small, more favourable pockets in sheltered areas and south-facing slopes. Purple saxifrage, bilberry, and mountain sorrel are some of the hardy species which can be found in these localized areas. Animal life is also limited except in the rich marine environment which supports important populations of polar bears, seals and whales. The warmer coastal areas welcome crowds of seabirds, including little ringed plover and black-legged kittiwake, among others.