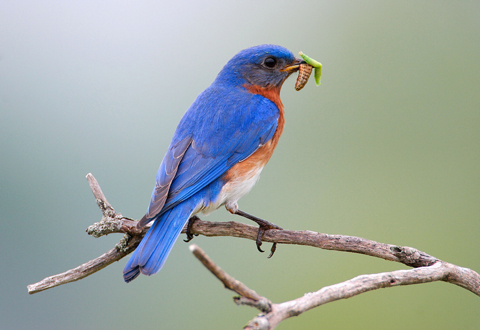 We can help keep our precious ecosystems pristine - supporting wildlife and benefitting us. One way is in our own green space - incorporating a variety of plants and natural elements to create habitat, using earth-friendly or 'green' practices and including regionally native plants.
This is especially important as wild areas are shrinking as home and commercial development and resource extraction increases. What remains is often stressed with pollution.
Below are some positive impacts we can enjoy from gardening with wildlife in mind. For specific steps in recreating wildlife habitat, visit our How to Garden with Wildlife in Mind pages or tailor your efforts even more with the help from our Plants and Animals pages.
The Benefits of Gardening with Wildlife in Mind
Healthier plants and less pollution. Using natural fertilizers like manure or compost, rather than synthetic ones, allows soil organisms to thrive leading to healthier soil and ultimately stronger plants that are more resistant to pests and weather.
This reduces the need for chemical pesticides which can be harmful to beneficial organisms both above and below ground, not to mention the environments that lie beyond which get impacted by water that picks up residues on its journey through our watersheds.
Save time and water. Appropriately choosing and placing plants also contributes to healthier plants that have more chance of thriving, but also means less or no need for watering, especially when incorporating regionally native species. This can save your groundwater if you are on a well, or river water if you are a city-dweller.
Save money and minimize pollution. For city dwellers, the reduced demand for water reduces the need for pumping and processing water both to and from the water source. This can save taxpayers and minimize negative impacts on the aquatic life in that water source and beyond.
Additionally, supporting activities like composting can save space in landfills, saving taxpayers millions of dollars from siting a new landfill too soon. This can also minimize the toxic leachate made in landfills, which is not always possible to contain.
Provides thrilling moments as you catch glimpses of animals you've never seen before. It's also awe-inspiring, uplifting or downright hilarious as you see regulars in wacky or tender moments. Witnessing these moments is often the highlight of one's day or week.
By contributing to cleaner water, air and soil, we have access to healthier living – from cleaner water for swimming, brushing your teeth, let alone drinking, to healthier soil for growing food, safer lawns for our children and pets and cleaner air for breathing, to name a few.
As wildlife benefit, we then benefit from their roles played in nature, such as pollinating about 1/3 of the food on our planet that we depend upon for our well-being. Their pest control services also keep potential 'pest' populations in check, preventing major problems with crops, lawns and personal comfort (bugs). And their habitats can also be a buffer during extreme weather.
Satisfaction in knowing one is doing their part in being wise stewards of our planet and promoting well-being for us all.
Increased well-being, as studies have shown for over 100 years that being near nature, let alone looking out upon it, is proven to speed healing time for patients recovering from surgery or illness, assist in emotional and mental calming and healing as well as lessening pain noticed while undergoing procedures at dentists, for example.
Photo credit: Larry Kirtley