What's dirt cheap, naturally nourishing and improves the texture of your soil? Compost! Making compost can be incredibly easy and can drastically reduce the amount of household garbage you put out on the curb, making it a real treasure for tax payers and gardeners alike.
What is composting
Composting is nature's way of recycling organic matter (things that were once living) into a nutrient rich soil amendment. Microorganisms like bacteria and invertebrates like worms eat our food scraps and yard waste and excrete it out as an odourless, earthy and invaluable fertilizer for plants.
Benefits
Composting is an easy way of producing a free valuable soil conditioner for your garden, houseplants or local park – for free.
As a fertilizer, compost returns nutrients to the soil in a slow and safe manner for plants, allowing them to use the nutrients at their pace without burning their roots or forcing performance as with traditional chemical fertilizers.
It is also safe for the beneficial organisms living in the soil that are key to healthy soil and therefore healthy plants.
People, wildlife and our environment all benefit as we prevent runoff of unabsorbed nutrients that eventually pollute our groundwater, lakes and rivers.
As a soil amendment, compost improves the structure of the soil - loosening heavy clay and binding sand - helping soil with water retention/drainage and aeration.
Healthier soil and healthier plants means less pest problems which means less money and time spent on remedying problems.
Making compost reduces about 30 percent of the garbage sent to landfills. This means our landfills will last longer, saving taxpayers money and saving habitat for wildlife.
Keeping organic matter out of landfills also means less toxic leachate produced by our garbage, a substance which costs money to contain and treat.
It's free!
You can take as much or as little time making it, depending on the method you choose.
How to compost
There are many styles for composting, but all follow a basic principle of putting organic material in a pile and allowing it to decompose. Organic material, moisture and air are the key players in turning your waste into 'gardener's gold.'
Organic material
Composting ingredients can be divided into two groups: nitrogen rich (greens) and carbon rich (browns). Green materials are usually moist and include fresh leaves and grass clippings or fruit and vegetable scraps, tea bags and coffee grounds. Brown carbon rich materials include dry fibrous items such as wood chips, straw, dried grass and leaves. Keeping a bin or bag of leaves next to your composter can make layering easier as you add kitchen waste.
By layering these two groups, you help create an odour-free compost that can decompose in a matter of months. If you have just brown materials, it could take much longer to get compost and vice-versa with green materials. The latter can also make a rather smelly pile. If you can't add brown matter, put soil on the top to keep the odour contained. It will also retain nitrogen which you'll later use for your plants when you apply the compost.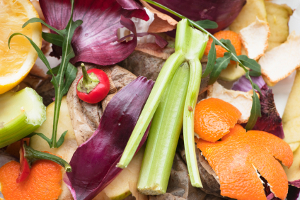 Avoid putting in animal products (meat and dairy) and excess oil as this can attract animals to get into or damage your composter. Likewise, don't put in animal waste or infected plant matter as it may render your compost unsafe. Weed seeds are usually avoided unless you know for certain your compost pile gets sufficiently hot enough to destroy them. You may also wish to keep rose leaves out of your composter, as roses are very susceptible to diseases which can live on in their clippings.
If you are in a rush, your composter will work faster if the items are chopped up.
Moisture
It is possible to have your composter anywhere and still get good compost. Sometimes paying attention to the location of your composter, however, can help to avoid problems and speed up the process.
If you have a closed composter that retains moisture easily and the earth below has poor drainage, you will likely need a spot in full sun to help keep the moisture under control. The opposite may be the case if you have an open pile and a well-drained site and you have trouble keeping the moisture in.
Your compost pile should be as moist as a damp sponge. If at any time you find your pile is getting too dry, you can always add water. If it is too wet, mix in dry materials.
Air
Many people never touch their compost pile and still get good compost that is ready after a year. Some folks choose to take time to turn their pile once in a while to speed things up. This is helpful but avoid doing it too often as it is helpful to let the centre of the pile get nice and hot, killing off harmful organisms and weed seeds.
Another way of adding air to your pile is to place, at different layers, hollow stems of dead plants such as sunflowers. Have them stick out and once in a while give them a little shake.
Location and Timing
All of these elements contribute to a quick and odour-free composting process. Depending on the location, your method and your time, you could have compost in a couple of weeks or a year.
Keep in mind that you can compost year-round. The process will just slow down during winter but come spring you'll see the level go down significantly. You can help by adding soil once the air warms up.
Types of Composters
Some composters are enclosed, like the kind sold at hardware stores, garden centres or home improvement stores. Your municipality may also offer them at a reduced rate. Enclosed composters tend to be more practical for city dwellers who live in close proximity with neighbours and don't have much space. Open composters are more conducive to those with more space to spread out in their garden and don't have neighbours close by who might be concerned about appearances. Either way, if you choose to screen the area around your composter, surround with a low wooden fence or evergreen trees or shrubs.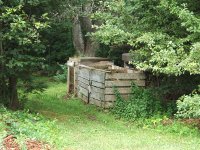 There are many ways to make a composter, from making squaes with discarded wooden pallets or any other material that won't leach harmful substances into the finished product. There are plans for making composters in books, on the internet and even at some municipal offices. Here is a design for a chicken-wire composter. It is very simple and effective.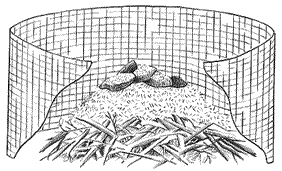 • Find a shady, protected area to construct a chicken-wire enclosure. It should be big enough to hold a pile about 1 m high x 1.5 m in diameter. Chicken-wire is sold in widths of 3' (or just under 1 m). You'll need a piece 4.5 to 5 m (14 to 16') in length.
• Join the ends of the chicken-wire to make a cylinder.
• Place the cylinder on an area of well-drained soil.
• Start your compost heap inside the chicken-wire cylinder with a base of branches for ventilation.
• Next, add a 7-cm layer of grass clippings, leaves, or weeds, and then a layer of food scraps (no meat or bones).
• Cover that layer with 2 cm of dry manure or soil. You could also add 2 cm of lime to speed up the decaying process.
• Repeat this series of layers until your pile is just over 1 m deep.
Troubleshooting
If your compost pile smells like rotting eggs, it is probably too wet and not getting enough air. Mix in dry materials and turn daily until the smell goes away.
If the compost pile smells like ammonia, there is likely too much nitrogen. Add dry materials and turn daily until the smell dissipates.
If your composter is attracting pests, perhaps you are adding oils and dairy and meat products or perhaps your compost pile is too open and needs covering, as with a ready-made bin. If these don't apply, then perhaps your area has a higher population of some species and you need to put some chicken wire around the base of your bin for some nibblers or a heavy stone on the lid to keep raccoons out.
If your compost pile is damp and sweet smelling but is not getting hot at its centre, your pile may be too small or it may need more air or nitrogen. It may also mean that your pile is finished its job and you are checking it at the end of its composting cycle.
Copyright Notice
© Copyright Canadian Wildlife Federation
All rights reserved. Web site content may be electronically copied or printed for classroom, personal and non-commercial use. All other users must receive written permission.