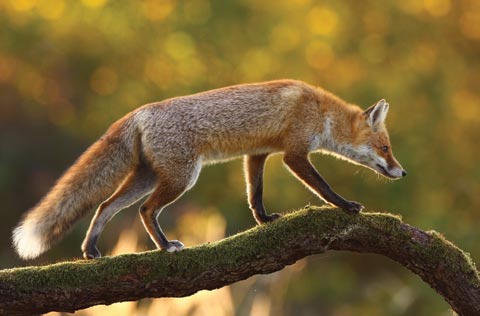 Canada is home to a myriad of fascinating creatures. Browse these pages for information on different mammal species and what they need to survive. Discover the world of mammals - their importance on this planet, their needs, their threats.
Browse through a few of our Canadian species in these "At A Glance" fact sheets. Each page has basic information on some of our Canadian wildlife, with links to detailed, reputable sources such as Hinterland Who's Who and the Government of Canada. Don't see a species you need? Comments or questions? Let us know!
Baleen Whales
These species of whale are grouped together because of their baleen, a comb-like curtain in place of teeth in their mouths. A baleen acts like a sieve. When eating, it filters out water but keeps food inside the whale's mouth. Baleen whales are filter-feeders.
Beaver
The beaver Castor canadensis is the largest rodent in North America and the largest rodent in the world except for the capybara of South America. An adult weighs from 16 to 32 kg and, including its 30-cm tail, a large beaver may measure 1.3 m long. Its ancestors were even larger. In the Pleistocene ice age—the era of the mastodons and the mammoths—the giant beavers that inhabited the expanses of Eurasia and North America measured just under 3 m in length, including the tail, and probably weighed 360 kg.
Beluga Whale
Beluga whales have stout bodies, well-defined necks and a disproportionately small head. They have thick skins, short but broad paddle-shaped flippers, and sharp teeth. Unlike other whales, the beluga doesn't have a dorsal fin. Belugas average 3 to 5 metres in length and weigh between 500 and 1,500 kilograms. Male whales have a marked upward curve at the top of their flippers.
Black Bear
The black bear Ursus americanus is one of the most familiar wild animals in North America today. The black bear is a bulky and thickset mammal. Approximately 150 cm long and with a height at the shoulder that varies from 100 to 120 cm, an adult black bear has a moderate-sized head with a rather straight facial profile and a tapered nose with long nostrils. The ears are rounded and the eyes small. The tail is very short and inconspicuous. A black bear has feet that are well furred on which it can walk. Each foot has five curved claws, which the bear cannot sheathe, or hide. These are very strong and are used for digging and tearing out roots, stumps, and old logs when searching for food.
Black-Footed Ferret
Of the three species of ferret in the world, the Black-footed ferret is the only one native to North America. They are impeccably cute: cat-like whiskers sprouting from a white muzzle, plush round ears above eyes set into a bandit's black mask and sturdy legs in black stockings, supporting a sinuous, sandy-coloured body crowned by a black-tipped tail.
Blue Whale
The blue whale has a long body with a mottled gray colour pattern that appears light blue when seen through the water. It is the largest animal ever known to exist on earth. It can weigh up to 200 tons and it approximately 80 to 100 feet in length.
For more species, visit Hinterland Who's Who, a joint program of the Canadian Wildlife Federation and Environment Canada.