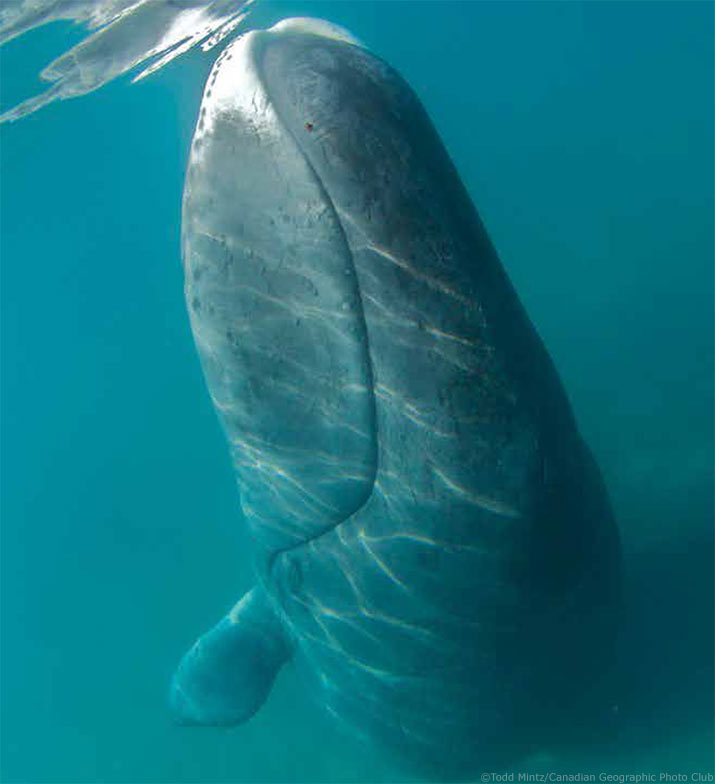 (Balaena mysticetus)
STATUS: Special Concern


(Eastern Canada-West Greenland and Bering-Chukchi-Beaufort populations are special concern)
Canadian origin:
Beaufort Sea in the Western Arctic; St. Matthew and St. Lawrence islands and in the northern Gulf of Anadyr; Eastern Canada-West Greenland population spends summers mainly in Baffin Bay and adjoining waters of the Canadian High Arctic, Foxe Basin and northwestern Hudson Bay
Destination:
From April to the end of June, the western Arctic population migrates along the Northern Coast of Alaska to the eastern Beaufort Sea and spends its summer around Banks Island. The Eastern Canada-West Greenland population winters in northern Hudson Bay, Hudson Strait, Davis Strait and southern Baffin Bay.
Habitat:
The bowhead whale lives entirely in the Arctic and sub-Arctic waters. It is circumpolar and spends winter around the southern edge of the sea ice.
Food sources:
The bowhead whale feeds by swimming forward with its mouth wide open, continuously filtering water through its baleen plates.
Fun fact:
These whales are thought to be some of the longest-living animals on Earth, with a lifespan longer than 100 years; one individual whale was thought to be around 200 years old.
BirdLife International and NatureServe (2014) IUCN (International Union for Conservation of Nature). 2014. The IUCN Red List of Threatened Species. Version 2014.3. iucnredlist.org. Downloaded on 28 November 2014. COSEWIC, 2007. Photo ©Todd Mintz