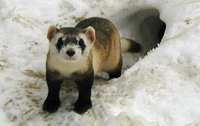 Description:
Of the three species of ferret in the world, the Black-footed ferret is the only one native to North America. They are impeccably cute: cat-like whiskers sprouting from a white muzzle, plush round ears above eyes set into a bandit's black mask and sturdy legs in black stockings, supporting a sinuous, sandy-coloured body crowned by a black-tipped tail.
Photo Gallery:
Range:
The Black-footed ferret lives in a habitat of temperate grasslands, commonly known as the Great Plains in the United States and Canada.
Habitat:
They rely almost exclusively on prairie dog colonies for food, shelter and storage; not only do the plump rodents make up nearly all of the ferrets' diet, but their burrows provide safe, prefab protection from predators and harsh weather and serve as a pantry for caching food. As such, black-footed ferrets survive only where prairie dog populations are sufficiently strong.
Diet:
Black-footed ferrets are "obligate" carnivores, meaning they consume one type of prey almost exclusively—in their case, the prairie dog. This meal of choice makes up over 90 per cent of their diet; a black-footed ferret family of four will consume about 763 prairie dogs per year. They may also occasionally eat ground squirrels, small rodents, cottontail rabbits and birds.
Behaviour:
Breeding season is from late January to early June but peaks between March and April. Gestation lasts from 42 to 45 days and then a little of one to seven kits (the average is three to four). Kits are born blind and hairless; they endure this helpless state safely sequestered in a prairie dog burrow until, at about two months old, they are allowed above ground.

While the male ferret plays no part in raising young, the female is a skillful mother. Under her supervision, the playful and insatiably curious kits chase one another, stage attacks on simulated prey and studiously imitate adult ferrets—all of which prepare them for life on their own, which usually begins in mid-autumn.
More on this Species:
---

This content is from Hinterland Who's Who, a joint program between the Canadian Wildlife Federation and Environment and Climate Change Canada. For more species fact sheets, videos and sound clips, please visit hww.ca