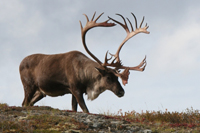 Scientific Name:
Rangifer tarandus
Description:
The caribou is well adapted to its environment. Its short, stocky body conserves heat, its long legs help it move through snow, and its long dense winter coat provides effective insulation, even during periods of low temperature and high wind. The muzzle and tail are short and well haired.
Photo Gallery:
(Please note — these photos are unverified images submitted by members of the CWF Photo Club.)

News:
Tweets about "caribou canada"
Range:
Northwest Territories, International, Manitoba, Newfoundland, Quebec, Saskatchewan, Yukon Territories, British Columbia, Alberta, Ontario
Habitat:
There are more than 2.4 million caribou in Canada. Some dwell in forests, some in mountains, some migrate each year between the sparse forests and tundra of the far north, and others remain on the tundra all year.
More on this Species:
References:
Hinterland Who's Who
---

This content is from Hinterland Who's Who, a joint program between the Canadian Wildlife Federation and Environment and Climate Change Canada. For more species fact sheets, videos and sound clips, please visit hww.ca