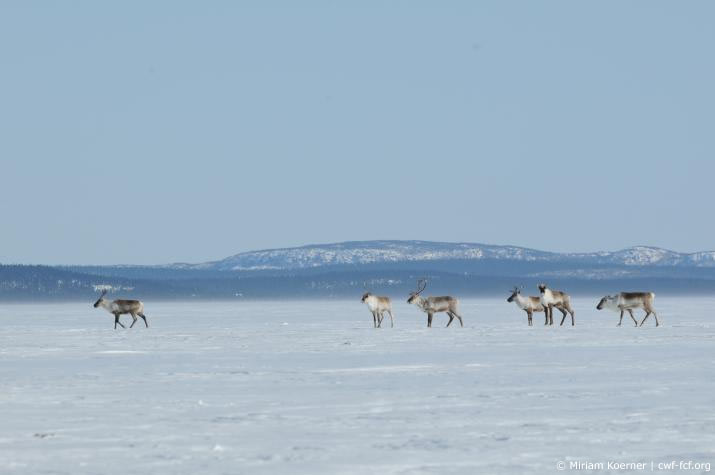 (Rangifer tarandus groenlandicus)
STATUS: Special Concern


(Dolphin and Union populations are of Special Concern and the Remaining barren ground.) populations are not at risk.
Canadian origin:
The Dophin and Union populations of barren ground caribou originate from Victoria Island. straddling Nunavut and the Northwest Territories. Their are eight other migratory herds of barren ground caribou (Porcupine herd, Cape Bathurst herd, Bluenose West herd, Bluenose East herd, Bathurst herd, Ahiak herd, Beverly herd, and Qamanirjuaq herd). The remaining herds of barren-ground caribou are not considered migratory
Destination:
Across the Union and Dolphin straits, Coronation Gulf and Dease Strait to the mainland of Nunavut (including Umingmaktok, Kent Peninsula and Grays Bay). For the eight other migratory herds listed above, the destination is the taiga further south.
Habitat:
Most barren ground caribou populations migrate seasonally from the tundra to more forested areas of the boreal forest. The remaining non-migratory barren ground caribou populations live and breed in the tundra year-round. With the exception of the Dolphin and Union population which migrates within the tundra.
Food sources:
The tundra provides the barren-ground caribou with various plants and grasses to feed on. Their main food source is lichen, but they also eat sedges, twigs and mushrooms.
Fun fact:
When compared to body size, this species has the largest antlers of any caribou.

IUCN (International Union for Conservation of Nature). 2014. The IUCN Red List of Threatened Species. Version 2014.3. iucnredlist.org. Downloaded on 28 November 2014.
Image © Miriam Koerner