Wild About Birds
Surely some of the most watched and beloved of Canada's wildlife species are the birds we see in our backyards. Robins and woodpeckers, hummingbirds and goldfinches intrigue us with their antics or cheer us with their songs. We may take our birds for granted, yet they have a lot to teach us.
Browse through a few of our Canadian species in these "At A Glance" fact sheets. Each page has basic information on some of our Canadian wildlife, with links to detailed, reputable sources such as Hinterland Who's Who and the Government of Canada. Don't see a species you need? Comments or questions? Let us know!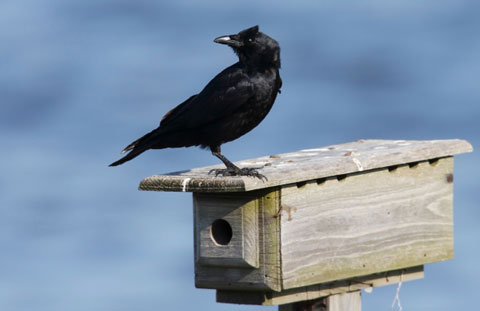 American Crow
Crows and their kin are very interesting birds, members of what may be the most intelligent avian family — the Corvidae. The crow's cousins include magpies, blue jays, jackdaws, rooks, nutcrackers and ravens. Many people use the terms crow and raven interchangeably but the two birds are actually quite different. Ravens are larger than crows (on average about the size of a hawk), have a heavier bill, and a wedge-shaped tail. Crows are approximately the size of a pigeon with a fan-shaped tail.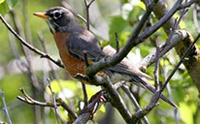 American Robin
The American robin is the largest thrush in North America. Males are not only more vocal than females, but also slightly larger and more brightly coloured. Adult American robins have grey-brown backs, characteristic reddish breasts, white bellies, white chins, yellow bills and throats with dark streaks. Juveniles have dark speckles on their backs and on their cinnamon-coloured breasts.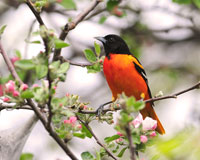 Baltimore Oriole
Smaller than a robin, the male oriole displays a brilliant orange breast, shoulder patch and rump contrasted with a black head, back, wings and tail. The female resembles the male, but is paler in colour, displaying a dull orange breast with a dark brown olive colour on its head and back. The male has a beautiful flute-like song, which he performs throughout the summer. The female's song, in comparison, is shorter and simpler. While songs vary slightly from one bird to the next, they always have the recognizable "hew-li" sound.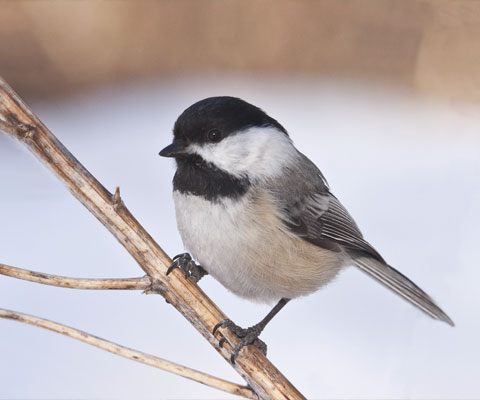 Black-capped Chickadee
Black-capped Chickadees are small birds that measure 12 to 15 centimetres long. They have grey backs, a black cap that covers their eyes, white cheeks and a black triangular bib on the throat. Their stomachs are white with buff along the sides and their wings and tail are dark grey with white edging.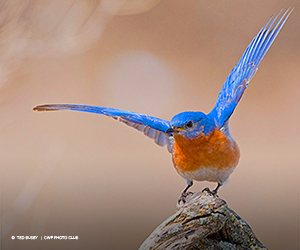 Bluebirds
Canada has three species of bluebirds. They are in the Thrush family, the same family as the American Robin. Bluebirds are a little smaller than our robins, averaging about 7 inches in length and 13-14 inches in width. All bluebirds have blue heads, wings, backs and tails, which gives them their name. All species also have a black bill, legs and eyes. The differences between species come mainly from the colouring of the throat, breast and belly. The male Mountain Bluebird is mainly blue with a pale blue breast and white belly. The male Western Bluebird is a darker blue with orange-red on the upper and side portions of its chest and dull blue-white on the lower middle portion. The male Eastern Bluebird is similar to the Western Bluebird, but the orange also covers its throat and the front sides of its neck. Another distinction is that its white belly is brighter. The females and juveniles of these species have similar colouring to the adult males but a much paler version.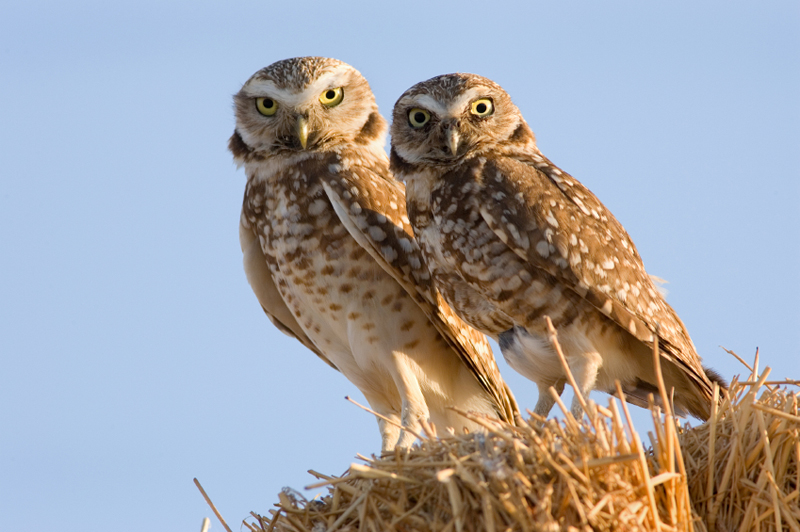 Burrowing Owl
Once a common sight in portions of Manitoba, Saskatchewan, Alberta, and British Columbia, the burrowing owl is now much more rare. The Canadian population of this little bird of prey has declined over 95 per cent since 1987, and now occupies a mere 36 per cent of its original distribution in Canada. This alarming rate of decline has motivated scientists to list the species as endangered under the Species at Risk Act.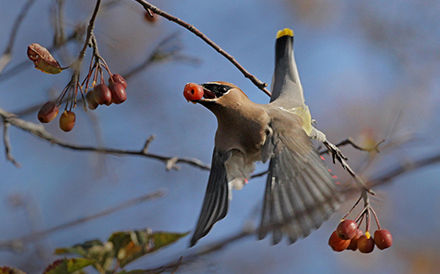 Cedar Waxwings
Cedar Waxwings are creamy yellow below, have light brown colouring on their heads and upper backs, grey on their lower backs and wings and a black mask across the top of their bills that extends around their eyes. They also have feathers on their heads that form a crest. They have a bright yellow band at the end of their tails. Sometimes you can see a thin red strip on the edge of their secondary wing feathers.

Common Redpoll
At only 11-14 cm, the common redpoll is a small bird. A member of the finch family, this streaked bird can be difficult to distinguish from pine siskins. Redpolls are named for their red forehead but this is not always obvious, so look instead for the black patch on their chin to recognize them. To identify the sex of common redpolls look for the slight tinge of rose on the breasts of the males.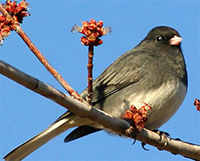 Dark-Eyed Junco
Dark-eyed juncos vary geographically in terms of their colouration. Depending on the region, the backs and sides of dark-eyed juncos can vary from dark grey to reddish-brown. In all regions, however, adults can typically be identified by their dark grey to black coloured head and breast (known as their hood), white outer tail feathers and white undersides. Females are typically smaller than males and are often lighter in colour. Juveniles differ markedly from adults with their streaked appearance and brownish plumage. Dark-eyed juncos can be identified by their sounds as well. Their most familiar call is a musical trill that's performed on the same pitch. Depending on predation, dark-eyed juncos typically live anywhere from three to 11 years in the wild. Their common predators are hawks, owls, cats, squirrels, chipmunks and weasels.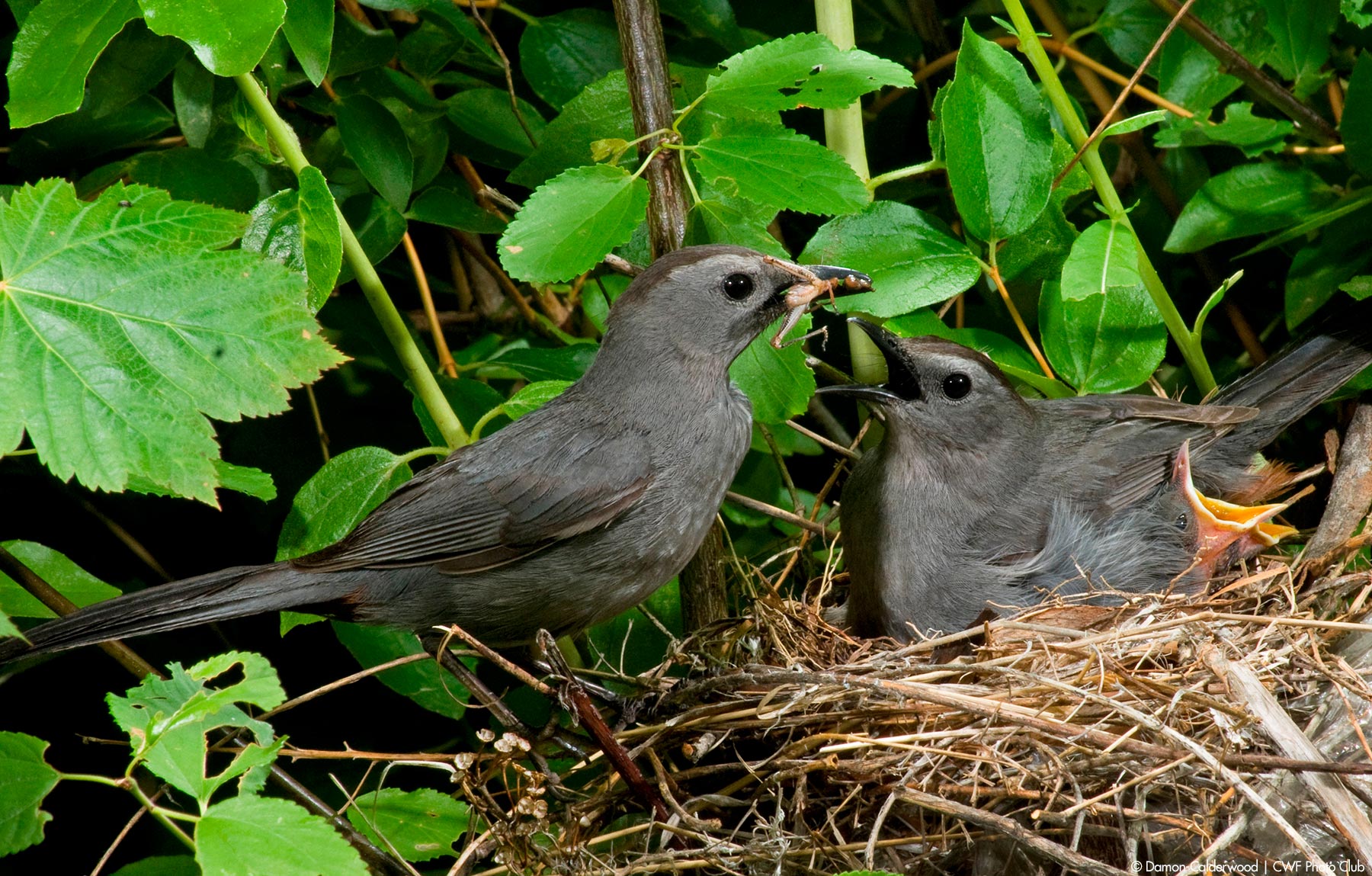 Gray Catbird
All Gray Catbirds, regardless of their age or gender, are mainly grey with black colouring on the tops of their heads and orange-brown underneath the base of their tail. Their calls are a raspy cat-like sound while their songs are highly variable and often melodic.
For more species, visit Hinterland Who's Who, a joint program of the Canadian Wildlife Federation and Environment Canada.