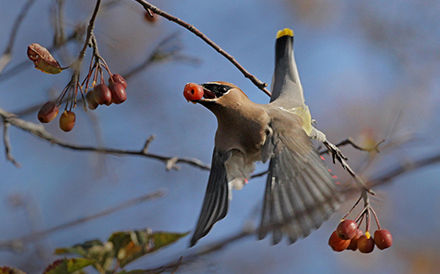 Scientific Name:
Corvus brachyrhynchos
Description:
Cedar Waxwings are creamy yellow below, have light brown colouring on their heads and upper backs, grey on their lower backs and wings and a black mask across the top of their bills that extends around their eyes. They also have feathers on their heads that form a crest. They have a bright yellow band at the end of their tails. Sometimes you can see a thin red strip on the edge of their secondary wing feathers.
Similar Species:
Bohemian Waxwings are very similar but are more grey underneath, have orange-brown colouring under the tail area and sometimes you can see a white wing bar that Cedar Waxwings lack.
Photo Gallery:
(Please note — these photos are unverified images submitted by members of the CWF Photo Club.)

Range:
Cedar Waxwings are found from coast to coast. In the warmer months, their breeding range extends to the northern reaches of many provinces.
Habitat:
These birds are found in open forests, woodlands, along streams and small rivers, fields, parks and gardens where fruit trees grow.
Diet:
Cedar Waxwings eat small fruit year round. They will feed from shrubs and trees like mountain ash, dogwoods, serviceberries, crabapples, hawthorns and winterberries. In the warmer months, Cedar Waxwings will also eat insects found on vegetation and around streams, ponds and rivers.
Behaviour:
Cedar Waxwings are social birds that nomadically travel in flocks year round, always on the lookout for fruit bearing shrubs and trees.
Their courtship includes passing something, usually a berry, several times to each other and taking a side hop or two before passing it back.
Notes:
The Cedar Waxwing gets its name in part due to the brightly coloured wax-like tips of their feathers. "Cedar" comes from their consumption of juniper berries. While several different trees have the word "cedar" in their common name, one, the Eastern Redcedar (Juniperus virginiana) which is actually a juniper, has blue fruit that these waxwings eat.
---