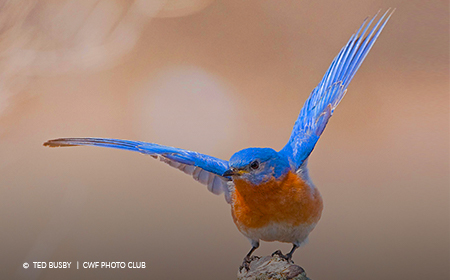 Scientific Name:
Sialia currucoides, Sialia sialis, Sialia Mexicana
Description:
Canada has three species of bluebirds. They are in the Thrush family, the same family as the American Robin. Bluebirds are a little smaller than our robins, averaging about 7 inches in length and 13-14 inches in width.
All bluebirds have blue heads, wings, backs and tails, which gives them their name. All species also have a black bill, legs and eyes. The differences between species come mainly from the colouring of the throat, breast and belly.
The male Mountain Bluebird is mainly blue with a pale blue breast and white belly.
The male Western Bluebird is a darker blue with orange-red on the upper and side portions of its chest and dull blue-white on the lower middle portion.
The male Eastern Bluebird is similar to the Western Bluebird, but the orange also covers its throat and the front sides of its neck. Another distinction is that its white belly is brighter.
The females and juveniles of these species have similar colouring to the adult males but a much paler version.
Photo Gallery:
(Please note — these photos are unverified images submitted by members of the CWF Photo Club.)

Range:
Mountain Bluebird – B.C., A.B., S.K., southwest M.B., Y.T., very southeast corner of N.T. Rare occurrences eastward in O.N., Q.C., N.B. and N.S.
Western Bluebird – southern B.C., swab
Eastern Bluebird – southeast S.K., M.B., O.N., Q.C., N.B., N.S. Rare
occurrences in southwest S.K. and A.B.
Habitat:
Mountain Bluebird – Valleys and prairie habitat as well as higher elevations and farmland
Western and Eastern Bluebird – Edge habitat, farmland and orchards at low elevations
Diet:
All bluebirds eat a mix of insects, fruit and the seeds of plants considered 'weeds.'
Behaviour:
Bluebirds are secondary cavity nesters. This means they nest in existing holes in trees, such as those made by woodpeckers, which are primary cavity nesters.
Primary Ecosystem Roles:
Bluebirds help keep insect species in balance.
Threats and What You Can Do:
With the reduction in suitable nesting sites – namely holes in trees made by primary cavity dwellers – we can help bluebirds by putting up nesting boxes. The boxes must be monitored, however, because non-native and aggressive House Sparrows are known to take over nest boxes. And if your property has snags – dead or dying trees – consider leaving them be if it is safe to do so. This will help cavity nesters in general by providing a place to nest and roost as well as supporting their insect food supply.
More on this Species:
---