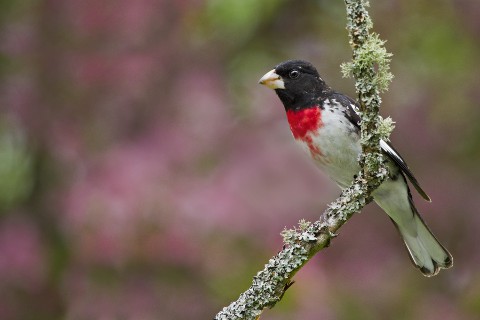 Photo: Ted Busby
Aside from the colourful distraction birds provide, they also play an important role in pest control. For instance, nuthatches, woodpeckers, and chickadees clean up the larvae and eggs of gypsy moths and other insect pests in trees. Horned larks devour weed seeds. Owls, using their excellent vision, strong beaks, and sharp talons, are efficient hunters of mice and rats.
Birds are also one of the easier forms of wildlife to attract to your backyard. To attract a variety of birds, consider their need for food, shelter, and water.
Food
Planting for birds is the best way to ensure you meet the needs of many varieties throughout the seasons. Birds rely on a variety of food sources and these sources can change at different times of their life cycle. While some birds are seed eaters, others rely on the presence of insects, some eat only fruit, some live on nectar, and yet others require a combination of these foods. Birds who eat seeds as adults require insects to feed their young. By providing only seeds, you miss out on meeting the needs of many bird species.
In planting for birds, consider the following tips:
A greater variety of plants will attract a greater diversity of birds, so include a mixture of taller and shorter trees, shrubs, native flowers, and grasses.
Diversify the height, leaf type, and food (fruits, berries, and nuts) provided by the plants in your garden.
Plant shrubs and trees that provide berries well into the winter to attract fruit-eating birds such as waxwings.
Plant in groupings to give the "edge effect" so attractive to birds.
By planting native wildflowers you attract insects that feed insect-eating birds and the young of many seed eaters.
Allowing flowers such as sunflowers, goldenrod, coneflowers or Joe-Pye weed to go to seed will attract finches, juncos, sparrows, and other seed-eating birds.
You can supplement these natural food sources by adding some feeders.
Provide a dusting spot for birds by leaving bare a circle of sandy soil about 20 inches (50 centimetres) across in a sunny corner of your yard. This will allow birds to clean their feathers and get rid of parasites.
Shelter
Evergreens provide shelter for birds throughout the seasons and are particularly important over the winter season when they protect birds from cold temperatures and icy winds.
Deciduous trees provide food and shelter for nesting through the spring, summer, and into the fall.
Snags (i.e., dead trees) are invaluable to wildlife. More than 85 species of North American birds use cavities in dead or dying trees. Allowing them to stand, provided they pose no danger, will attract woodpeckers, nuthatches, flickers, and many other birds and small mammals that use them for nesting and feed on the insects that inhabit them. If necessary, remove some of the branches and cut the tree back, to 8 to 10 feet tall, to minimize danger.
Create a brush pile to shelter birds through the cold winter and provide hiding spots in the summer.
A good way to recycle your Christmas tree is to put it out in the backyard for the rest of the winter so birds can use it for shelter.
Build and put up nesting boxes to make up for any shortages of shelter.
Providing snags and nesting boxes is especially important for native cavity nesters who face increasing pressure from introduced species. Introduced species, such as starlings and house sparrows, push out our less aggressive native species, such as bluebirds and tree sparrows, causing their numbers to decline.
Water
A source of fresh water is very important to birds. They can waste valuable energy if they must fly long distances to find water for drinking or bathing.
Birdbaths should be shallow (less than 6 centimetres deep), preferably with gradually sloping sides to allow birds to wade in.
If you already have a source of water that is too deep, add rocks for birds to stand on.
Rough surfaces, such as cement, are best, but you can reduce the slipperiness by adding stones or bathtub stickers on the bottom.
Clean the birdbath frequently by scrubbing it out with a stiff bristled brush. If you must use soap, be sure the birdbath is rinsed well before refilling. Avoid the use of disinfectants or other strong chemicals.
To prevent the spread of West Nile Disease clean and refresh the water in birdbaths twice a week
Birds find the sound of running water hard to resist. A fountain or recirculating stream is likely to attract many birds to your yard.
Place the birdbath in a sunny location, at least 2 metres from dense trees or shrubs where cats can hide.
If your birdbath is unsuccessful in attracting birds, try changing its height and location in your garden until you find a spot that works.