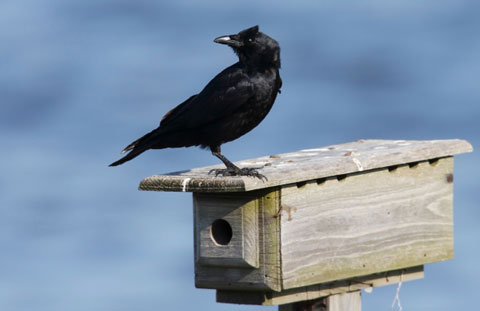 Scientific Name:
Corvus brachyrhynchos
Description:
Crows and their kin are very interesting birds, members of what may be the most intelligent avian family — the Corvidae. The crow's cousins include magpies, blue jays, jackdaws, rooks, nutcrackers and ravens.
Many people use the terms crow and raven interchangeably but the two birds are actually quite different. Ravens are larger than crows (on average about the size of a hawk), have a heavier bill, and a wedge-shaped tail. Crows are approximately the size of a pigeon with a fan-shaped tail.
Photo Gallery:
Range:
The American crow can be found in all of Canada except for the Yukon.
Habitat:
The crow adapts well to a variety of habitats. Unlike ravens, which prefer the countryside, crows thrive in cities and will gladly make their nests near large human centres.
Diet:
Crows are omnivorous - they will eat anything edible, and many things, which aren't. Their regular diet includes insects, crops (especially corn), carrion, fruit, nuts and occasionally the eggs or young of other birds. Despite their bad reputation for eating crops, crows also eat a number of pests, which are harmful to those same crops, including cutworms, wireworms, grasshoppers, and weeds.
Behaviour:
In early spring, crows build large, bulky nests in trees or bushes. The female crow lays four to seven eggs that are incubated for about 18 days. These eggs are greenish blue with brown blotches. Once hatched, the young remain in the nest for six to eight weeks.
Notes:
You can also distinguish crows and ravens by sound. The nasal, high-pitched call of a crow differs from the lower, hoarser, almost croaking sound of a raven. So, if you see a really big crow that sounds funny, chances are it's a raven.
---