Scary Stories
a wildlife tale
that echoes the fear factor you'd find in a Hollywood horror flick! We're talking about White-nose syndrome which is affecting three species of bats and spreading across North America, threatening entire populations of these creatures!
"Once upon a time, a tourist visiting a new country unknowingly brings with them a foreign fungus that rapidly spreads throughout North America. This infectious contaminant wipes out populations, and researchers think it can lead to species extinctions..."
Read more of this terrifying tale »
Carve a Wild Pumpkin!
Choose from a boo-tiful bat, spooky spider, a howling wolf or our very own mascot.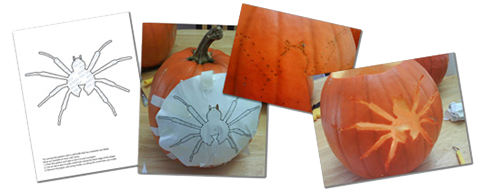 It's easy to use one of CWF's templates to carve a cutting-edge Jack-o'-lantern, just follow these simple instructions.
Click on your favorite template link above.
Print the PDF that opens in your browser.
Cut a hole in your pumpkin on the top, big enough to get your hand in there.
Scoop out all the stuff in the pumpkin — this part is messy so have fun!
Pin or tape your template/pattern to your pumpkin.
Use an awl or pen to poke small holes along the black edge of the shape.
Remove the paper and, using a knife, cut along the small holes you made.
Drop a flashlight in your pumpkin and take a look in the dark!
After creating the spookiest, most unique Jack o' Lantern on the street, why not create a snack the whole family can enjoy with this recipe for roasted pumpkin seeds.
Spooktacular E-cards!
The year's most frightful night is rapidly approaching and CWF is offering you some spooky treats to help celebrate!