October 11, 2012
By Stephanie Poff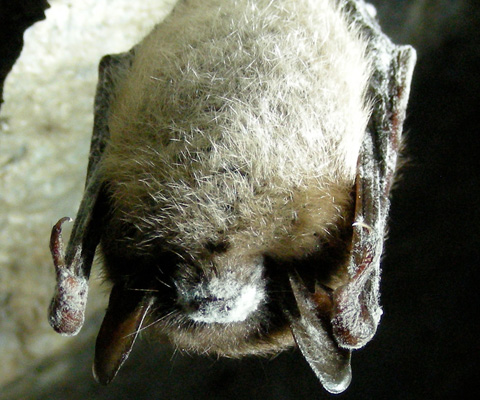 With Halloween around the corner, there's a certain spookiness in the air. Want to hear a truly scary story? A tourist visiting a new country unknowingly brings with them a foreign fungus that rapidly spreads throughout North America. This infectious contaminant wipes out populations, and researchers think it can lead to species extinctions! Sounds straight out of a horror movie, doesn't it? In fact, it's very real. This epidemic is called white-nose syndrome (WNS) and it has been affecting bat populations for six years. CWF is actively involved in studying the cause and spread of this fungus through researchers with the University of New Brunswick.
White-nose syndrome started affecting bats in 2006 when an invasive fungus began killing cave-hibernating bat populations across North America. The fungus (Geomyces destructans) was introduced by a tourist into a cave near Albany, New York, and has since spread into four provinces and 10 US states. In Canada, WNS is currently found in Nova Scotia, New Brunswick, Ontario and Quebec. WNS-infected bats wake frequently during their hibernation and become more vulnerable to disruptions. The increased frequency with which they are waking and the amount their body temperatures are warming depletes their fat stores. This increased usage of energy leads the bats to freeze to death, and their carcasses are often found with white noses (which is where the name comes from).
University of New Brunswick graduate student Karen Vanderwolf and zoologist and museum curator Dr. Don McAlpine detected New Brunswick's first case of WNS in 2011. CWF will be working with Karen for the next two years through the Endangered Species Program to study the infected populations. This summer Karen worked in the lab identifying 81 species of fungi from her winter sampling with more findings to come.
She is now preparing for the upcoming fieldwork season and will be attending the first Canadian white-nose syndrome conference in Ottawa from October 16 to 18. To date, 90 per cent of the little brown bat population in New Brunswick and Nova Scotia has been wiped out, and studies show that the less common northern long-eared bat and tri-coloured bat may be even harder hit in years to come. If you would like to learn more about Karen's work and what our conservation research team is up to, check out our Conservation Blog today.