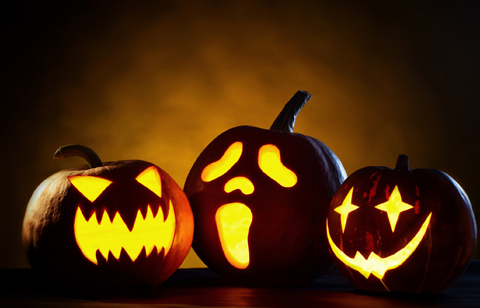 CWF wants to help you get green for Halloween — and we don't mean the ghoulish green of your costume! Climate change is scary enough on its own; let's do what we can to reduce our impact every day.
Thriller at the Thrift Store— Get out to your local thrift store to get second-hand materials for your costume! But be sure to get out there soon; Halloween is a busy time for these stores, so you want to make sure you get first dibs on the goods! Be creative, too. Try sewing the fabric of a few shirts together to make a spooky vampire cape or witch's robe!
Light Up the Night — Keep your kids safe on dark streets with this flashlight extraordinaire! You'll never need batteries for these shake and shine lights! When Halloween's over, keep this flashlight in your emergency kit.
SPOOKtacular Bag — This season, go batty for CWF's new Bat Bag. You can use this reusable bag for trick or treating, handing out candy or for trips to the grocery store! The bat bag is great as a gift, or as a treat bag for friends, family or teachers. Visit CWF's Shop and Save Wildlife Store to nab one.
Energy Vampires— You won't need garlic to banish these vampires from your home. Energy vampires are appliances that are left plugged in. Even when you're not using your microwave or computer, leaving them plugged in still sucks energy from your sockets. So unplug them when they're not in use!
Don't do Jack with Your Jack O' Lantern — Compost your pumpkin! And toss in fall yard leaves and food scraps while you're at it. Composting drives down the heaps of junk that end up in landfills, and also helps make great gardening soil.
Copyright Notice
© Copyright Canadian Wildlife Federation
All rights reserved. Web site content may be electronically copied or printed for classroom, personal and non-commercial use. All other users must receive written permission.