By Nathalie Viau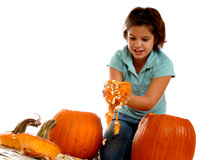 With Halloween just around the corner and fall already at the door, it's the perfect time to head out to the local pumpkin patch to nab the biggest Halloween pumpkin you can find. Some local farms will also offer hayrides, petting zoos, corn mazes and more so you can make a whole day of it! After you carve 'er up, creating the spookiest Jack o' Lantern on the street, why not create a snack the whole family can enjoy?
Roasted pumpkin seeds are easy to make and high in fibre! After you've rinsed off the pumpkin seeds in cold water and separated them from the pulp, you're ready to start roasting!
Roasted Pumpkin Seeds
Spray a baking sheet with non-stick cooking spray and place the seeds in a single layer on the sheet.
Sprinkle the seeds with salt and bake at 325 degrees F for 25 minutes or until toasted – stirring the seeds after the first ten minutes.
Allow the seeds to cool. Keep in an air-tight container.
Fun Pumpkin Facts:
The pumpkin is a member of the Cucurbitaceae family, which also includes cucumbers and melons.
Pumpkins are believed to be native to North America — pumpkin-related seeds dating from between 7000 and 5000 B.C.E have been found in Mexico.
The fastest pumpkin carving time of 24.03 seconds was set in 2006 by Stephen Clarke.
The world record for the largest pumpkin is 1689 pounds.
In Canada, the Hoary Squash Bee is a common pollinator of pumpkins and squash — the males often sleep in the flowers at night!