September 1, 2009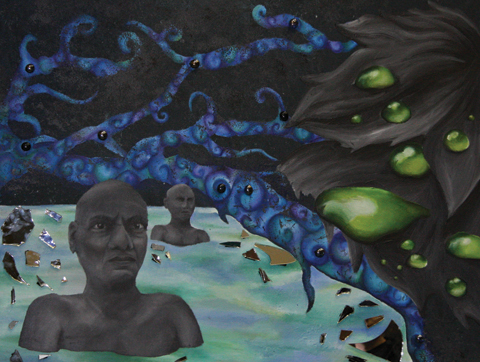 Artist: Caitlynn Beckett
Canada holds more than one-fifth of the Earth's fresh water resources, all of which reside in the 1,235,000 kilometre² span of the Great Lakes and St. Lawrence Basin. Without these resources, 40 million people would be without drinking water, including 10 million Canadians and 30 million Americans. Without them, nearly 4,000 species of plants, fish and animals would lose their habitat.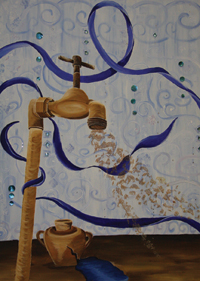 Artist: Miranda DiPaola
Clearly, these liquid assets are priceless, yet every year, we devastate these bodies of water with pollutants. Facilities discharge over 625 million kilograms of pollutants each year into the water, air and land in the Great Lakes basin. Moreover, 90 billion litres of untreated sewage — packed with water, human waste, pathogens, micro-organisms and toxic chemicals — pour into the Great Lakes and St. Lawrence River. While this water is filtered out before it's deemed potable, the wildlife that live there are forced to live in and absorb these toxins. The beluga whale, for example, has felt the harsh affects of these pollutants. Researchers compared the health of Arctic belugas to belugas living in the St. Lawrence and found St. Lawrence belugas to contain higher levels of mercury, selenium and lead in their systems.
Approximately every eight months, the St. Lawrence River and Great Lakes harbour a new invasive aquatic species; most arrive via ocean-vessels entering our ports. These invasive species threaten the health of native plants and aquatic life. Today 37 of the 285 identified plant species living in the St. Lawrence wetlands are non-native; while 185 species in the Great Lakes basin are invasive.
Researchers predict that temperatures are going to skyrocket in the 21st century by 3° C to 7° C in the winter and 3° C to 11° C in the summer. When the mercury rises, the water's temperature will grow warmer too, resulting in an increase in invasive species and contaminant levels, and changes in fish distribution.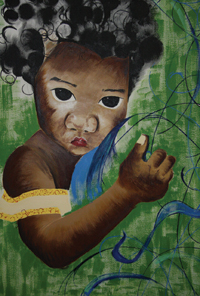 Artist: Kaitlyn Juba
The Canadian Wildlife Federation isn't going to stand by and watch our waters suffer. It has a national plan to guide CWF water conservation activities under development with a subcomponent on the Great Lakes-St. Lawrence Seaway.
CWF has also partnered with the University of Lethbridge to bring you the Rivers to Oceans public service announcements. These PSAs about surface water, ground water, waste water, storm water, and more, show how everything we do impacts this precious resource. CWF has also developed a new 30-minute French language documentary on the St. Lawrence River called Navigating Troubled Waters.
To find out more about CWF's involvement and how you can play an active role in the conservation and protection of Canada's waterways and the wildlife they sustain, visit RiverstoOceans.ca.
Art students from Michael A. Riffel High School in Regina, Sask. are painting a picture of the water crisis facing local and international wildlife and human populations in an effort to encourage the public to become part of the solution through an innovative project they titled "H2OurLife: Now is Not Soon Enough." This past May, CWF sponsored three students to attend the 5th World Environmental Education Congress.