By Allan Kempert
One of the top comments I hear from people is, "I don't mind bats; I just don't want them in my attic!" Most people understand that bats eat bugs, which is great for those trying to enjoy their gardens. But here are some other facts about bats that most people aren't aware of:
Benefits
DID YOU KNOW?
Bats forage for food twice in a 24-hour period. These foraging periods can last anywhere from one to three hours. The easiest time to see bats feeding is shortly before dawn and at dusk.
Bats are some of the most natural agricultural pest controls you could ever wish for. A typical colony of 150 Big Brown Bats consumes 38,000 cucumber beetles, 16,000 June bugs, 19,000 stinkbugs and 50,000 leafhoppers in just one summer.
Bat guano (poop), is one of the richest natural fertilizers to be used in agriculture and has been employed since ancient times to promote a good harvest. It is especially useful for organic gardening because it contains healthful microorganisms and elements such as nitrogen and phosphorus that work to detoxify the soil. Phosphorous also aids in the flowering of crops and nitrogen promotes stalk and shoot growth.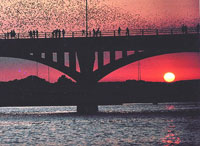 1.5 million bats leaving Congress Avenue Bridge (Austin City Guide)
Another benefit of bats is their contribution to ecotourism. Now I don't suspect that most gardeners want an influx of people coming to their garden, but if you do, consider the following. Many states in the USA are realizing the positive tourism spin-off from bats. Every summer night, hundreds of people gather to see the world's largest urban bat colony emerge from under the Congress Avenue Bridge in Austin, Texas. It is estimated that more than 100,000 people visit the bridge to witness the bat flight, generating 10 million dollars in annual tourism revenue.

Even if they know the benefits of bats, many people are still confused about what is fact and what is myth.
Amazing & Fun Facts About Bats
DID YOU KNOW?
• There are an estimated 1,100 species of bats in the world.
• Nineteen species are native to Canada.
• Twelve of these 19 species are known to roost in houses and buildings during the summer months.
• The two most common species found across Canada are the Big Brown Bat and the Little Brown Bat.
Species
Name: Big Brown Bat (Eptesicus fuscus)
Wingspan: 32 to 40 cm
Weight: 10 to 21 grams
Habitat: forests, urban areas, near streams or lakes
Summer Roosts: trees, buildings, rock crevices
Name: Little Brown Bat (Myotis lucifugus)
Wingspan: 22 to 27 cm
Weight: 4 to 11 grams
Habitat: near streams or lakes, urban areas
Summer Roosts: caves/mines, trees, buildings

Myths
MYTH #1 – BLIND AS A BAT (false)
Contrary to popular belief, bats are not blind. In fact, bats can "see" better than we can in the dark because they are equipped with a highly developed sense called echolocation. When echolocating, bats produce a series of extremely high frequency chirps. These chirps are emitted in the form of sound waves that bounce off of objects and prey. When bounced off an object, these sound waves return to the bat in the form of an echo, thus helping the bat to navigate and hunt. These chirps are so high in frequency that they are inaudible to the human ear. The chirps that you hear from the bats as they emerge from their roosts are social calls, not echolocation.
MYTH #2 – BATS GET CAUGHT UP IN YOUR HAIR (false)
Bats don't get caught in your hair, but they may swoop around your head if there are bugs flying around. Think of it as being a natural form of bug repellant.
MYTH #3 – I CAN CONTRACT RABIES FROM A BAT (true)
Rabies is a viral disease that attacks the central nervous system. It is spread through contact with the saliva of an infected animal, which can come in the form of a bite wound from the animal. If you have a scratch on your hand and saliva enters that way, you still risk getting the rabies virus.
Fortunately, rabies is rare in bats, and documented cases of bats passing rabies on to humans are few and far between. In fact, only five of the 26 cases of human rabies recorded in Canada since 1925 have been due to contact with an infected bat. Still, you should never have to handle a bat when evicting it from your house or building. When working on a bat eviction site, I strongly recommend wearing leather gloves and appropriate clothing. If you or someone you know gets bitten, contact your local hospital or health unit. More detailed information on rabies can be found at rabies.mnr.gov.on.ca.
MYTH #4 – I CAN CONTRACT LUNG DISEASE FROM BAT GUANO (true)
Histoplasmosis is a fungal disease that affects the lungs and can be contracted by breathing airborne fungal spores found in bird and bat droppings and in soils enriched by droppings. In temperate regions, histoplasmosis from bat droppings is not considered a serious health hazard. However, you should still use a suitable respirator mask during a bat eviction when working in confined or low air movement areas.
MYTH #5 – IF I PUT UP A BAT HOUSE, THE BATS WILL LEAVE MY HOUSE AND GO TO THE BAT HOUSE (false)
Putting up a bat house will not make the bats leave your house. They are creatures of habit and like to return to the same roost that they use all the time. It's important to evict them from your house if you want them to use a bat house.
MYTH #6 – BAT HOUSES TRAP BATS (false)
Bat houses do not trap bats but instead provide an alternative roosting site for evicted bats.
MYTH #6 – WHEN THE BATS LEAVE AT NIGHT, I CAN SEAL MY HOUSE/BUILDING (false)
Bats don't all leave at the same time. In fact, some will stay in the house/building for the night if they sense danger. Sealing the house/building will therefore result in trapped bats.
BATS IN YOUR ATTIC
If you have bats in your attic and want to get them out, there are some critical steps that must be followed:
1 – You need to be aware of the best time to evict bats. The following is a pictoral graph of the one-year cycle of bats. The best time to evict bats from a building is mid-August, after the pups have learned to fly.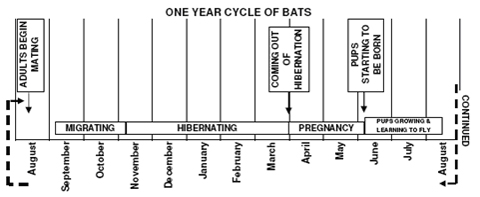 2 – Some people think that bats will leave their building to hibernate somewhere else and then they seal their building. PLEASE DON'T DO THIS. Big Brown Bats tend to hibernate in buildings over the winter and will be trapped come spring if the building is sealed up.
A Typical Bat Eviction
Note: This is a summary of a typical bat eviction, which normally involves eight steps.
Upon arriving at a bat eviction site, take a walk around the house and have the home owner explain all that they know about the bats. Observing the attic and around the house will help you know what you are up against. Once you know more about the bats in this area, it is time to seal up the house. The sealing of a building, in most cases, is quite labour intensive. Basically, you should seal all potential entry and exit points of 0.6 cm or bigger with caulking, tin, wood, etc. – including the points that bats aren't currently using. Fasten exit chutes to the primary entry and exit point that bats are currently using. Exit chutes are simple devices that allow bats to leave a house/building and not re-enter. Chutes are typically made of some form of plastic. The easiest and cheapest material to use for exit chutes is central vacuum tubing.

It is critical that the inside of the chute be smooth so that the bats slip on it. Keep the chutes as vertical as possible, preventing the bats from re-entering them.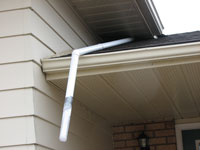 At dusk, I encourage the owners of the building to come and watch the bats' reaction to having their entry and exit points tampered with. First the bats become hesitant to leave the house/building and chatter quite a bit amongst themselves. Then a few of them will leave through the chute, but most will try to find another way to exit the house/building. If you have aluminum soffit and fascia, there will be some noise due to the bats crawling along the aluminum. Because all other exits have been sealed, the bats shouldn't be able to leave by any other means and will come back and use the exit chute.

After the bats leave the chute, they will return in approximately one to three hours. Bats are creatures of habit and will try to get back in their usual entry and exit point. When they realize they can't do this, they will be quite excited and fly around erratically – I have personally had bats brush my ear. I highly recommend placing a bat house as close to the exit chute as possible to provide the bats with an alternative roosting spot.
To ensure that all bats have vacated the building, leave the exit chutes up until all activity has ceased. Once there is no activity at the chutes, you have succeeded in evicting the bats from your house/building. Then you can remove the exit chutes and seal up the entry.
If you plan to take a do-it-yourself approach to bat eviction, you can learn more about the eviction procedure by purchasing a copy of Simple Bat Eviction Guide by visiting bathouseguy.com. You can also download a Bat Exclusion Flyer or watch a Removing a Bat Video at batcon.org.
Attracting Bats To Your Garden
If you want to attract bats to your garden, the simplest way is to erect a bat house. Before doing so, make up a concoction of what I like to call "Bat Butter Slurry." If you have bat guano from bats in the area, mix it with water. Next, turn the bat house upside down and pour in the "Bat Butter Slurry." Swish the house around and get the slurry spread around.
Place the bat house on the side of a building as high as you can get it. The heat from the building transfers to the bat house later in the day, keeping the bats nice and warm. Most people won't do this because of unfounded fear of bats, so another option is to erect the bat house on a 4" x 6" (10.16 x 15.24 cm) beam or pole. When placing the bat house on a beam or pole, try to get the bat house as high as you can so as to be in the normal flight path of bats and to protect them from predators. The bat house should face south or southeast to ensure it receives at least eight hours of direct sunlight. Ensure there is a clear flight path in front of the bat house of at least three metres to allow for easy entry and exit.
(Note: It's NOT a good idea to fasten bat houses to trees because they are unstable and can fall down, shadow the bat house, and, as they grow, the lag screws can pull away from the bat house and cause it to fall to the ground.)
Allan Kempert
Allan is the owner of BatHouseGuy.com and author of the best-selling Simple Bat Eviction Guide, a do-it-yourself guide on how to humanely get rid of bats from your home or building. Allan also performs bat evictions, sells bat houses and serves the agricultural community by using bats as natural agricultural pest controllers.