By Natalie Gillis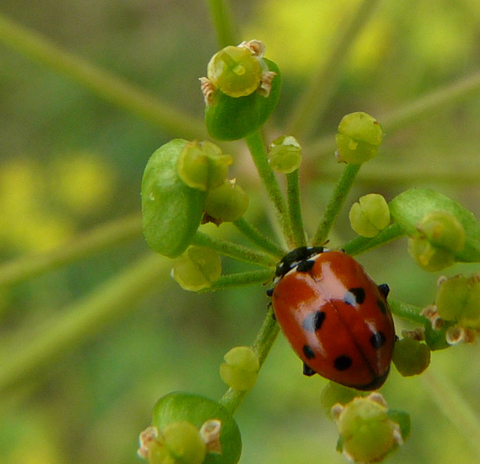 Clint Eastwood may not have played a gardener in the movies, but protecting your garden from pests can feel as dramatic as the best spaghetti western. Here's a run-down of a few of the good, the bad and the ugly garden insects and how to handle them — without having to square off at ten paces.
The Good
There are so many beneficial garden insects it's hard to highlight just one. Some, like ground beetles, are predators that eat cutworms and other larvae. Others, like parasitic wasps, are parasitoids that destroy the eggs of tomato hornworms and gypsy moths. Pollinators, like bees, butterflies and moths, pollinate plants to ensure a successful harvest. All three types of beneficial insects will help control pests without resorting to chemical warfare.
The ladybug is one of the gardener's most beloved insects. It is an aggressive predator of aphids, mealy bugs, whiteflies, mites and the eggs of other insects. Both the adults and the larvae feed on pests (larvae look like tiny alligators in the soil), and a single ladybug can eat as many as 500 aphids a day.
To attract ladybugs to your garden:
provide pollen, an essential part of the ladybug's diet (especially from plants that have umbrella-shaped flowers like dill, cilantro and Queen Anne's lace)
plant coreopsis, dandelions and scented geraniums, which also attract ladybugs
make sure your ladybugs have a steady food supply by avoiding chemical pesticides
To learn more about beneficial insects and how to attract them to your garden, read Wild About Gardening's Ladybug 101 factsheet and beneficial insect guide.
The Bad
Cutworms are the lumberjacks of the insect world, cutting off the stalks of young plants at or just below soil level. If you've planted seedlings one day only to find them gone the next, they've probably fallen victim to a cutworm.

Cutworms are the caterpillars of several different types of moths and are generally grey-brown to black and curl into a C-shape when disturbed. Overwintering as larvae, they are ready to start feeding as soon as the soil warms up and the first plants start growing. By late spring, they tunnel into the soil to pupate and emerge as moths in summer.

Though frustrating for gardeners, cutworms are an important food source for various birds and the adults moths are useful pollinators. Try attracting birds to your garden to control your cutworm population. You can also:
place collars around young plants, about 3 cm below and 1 cm above ground (toilet paper rolls work well)
pick off cutworms by hand in the spring when you are turning over the soil
The Ugly
Slugs and snails are able to consume up to 40 percent of their weight in tender leaves and stems and are among the most common pests in the garden.. Many a gardener has seen slugs and snails wreak havoc on seedlings and herbaceous plants, leaving nothing but a slime trail in their wake. They can be especially bad in rainy years.

There are many natural slug predators, including birds, toads, snakes, salamanders and beetles. If you garden organically and create habitat for these creatures, they'll help you control your slug population. You can also:
hand pick slugs and snails in the evening or at night, when they are most active (use a flashlight to search your plants and drop slugs and snails into soapy water)
till your soil in spring to reduce the slug population and expose eggs
lure slugs and snails into traps made of boards propped up on one corner, lengths of garden hose, or overturned empty grapefruit halves (check traps in early evening, before slugs and snails set out to eat, or in the morning)
For more information, read the Natural Insect Control fact sheet at CWF's Wild About Gardening website.