By April Overall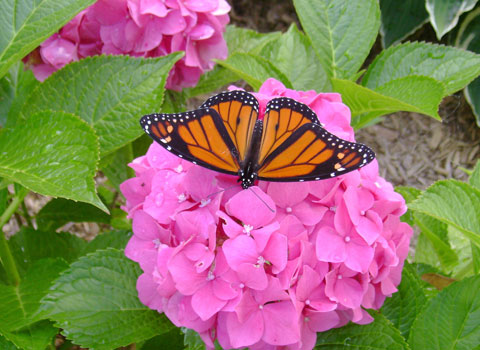 Every autumn, approximately 60 million butterflies fly nearly 2,500 kilometres to central Mexico to escape the cold. But it seems this year's trek has proven difficult for the monarch butterfly (Danaus plexippus), as it's had the lowest population levels on record. Their current colony size measures up at a mere 1.92 hectares, down from 2004's 2.19 hectares. If that isn't shocking enough, these beauties measured in at 21.6 hectares in 1995. It seems dropping temperatures are primarily responsible for the monarch's dropping numbers.
Monarchs reach central Mexico to over winter in high-altitude fir forests. These trees are crucial to protecting the butterflies from chilly, hot and stormy weather. However, deforestation, illegal logging and forest fires have all helped to drive down the monarch butterfly's population. The butterflies that survive the winter fly north to Texas in late February to early March, where they reproduce.
Monarchs exclusively lay their eggs on milkweed plants. These plants contain a poison called cardiac glycosides, which protects the monarch from predators. Texas experienced a drought this past spring, which in turn drove down the growth of milkweed. Moreover, the agricultural industry has introduced genetically engineered crops like soybeans and corn, which stops milkweed from growing in the fields. As a result, monarchs, which usually rely on these fields to lay their eggs on milkweed, are forced to search for other locations.
Finally, the cold summer has also impaired the monarch's northern trek. The monarch is incredibly sensitive to temperature. As such, during a warm summer they'll produce up to four generations, whereas during a colder summer they'll produce two generations. As a result of the cold summer, the monarch's numbers are fewer than ideal. However, that also means there's hope for next year, should the weather prove balmy!
Wondering how you can help the monarch? Toss out all the pesticides and herbicides in your garage, plant common milkweed (Asclepias syriaca), swamp milkweed (A. incarnata) and butterfly weed (A. tuberosa) in your garden, and make sure you provide the monarch with a water source.