By Stephanie Poff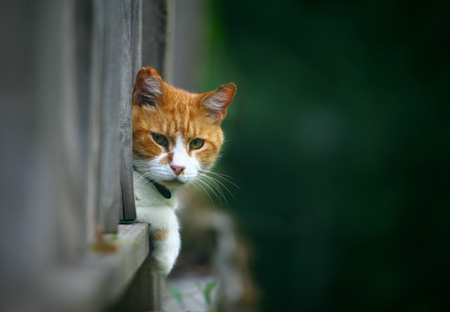 For this month's Take Five we've asked Deborah Hass, the Executive Director of Ottawa's Wild Bird Care Centre for her thoughts on what the main causes of bird casualties are in Canada and how to prevent such injuries. She's also given us some facts and tips on what you can do to save the winged wonders in your backyard!


Impact trauma is the largest cause of casualties. Birds collide with cars and windows often but there are things you can do to reduce that risk. Window decals are easy fixes. If you choose to put up a window decal, Deborah recommends that it be put on the outside of the window. Birds can see their reflection in the glass so creating a non-reflective surface increases your chances of preventing these injuries. For help on what to do for a bird that has hit your window, check out our recommendations in Terri Lee Reid's You Asked For It section!


Nests becoming dislodged is another major problem for birds. Nests can be knocked out of trees and shrubs naturally or from humans simply not knowing they're there. Nests are made in early spring when many of us haven't started our spring cleaning efforts, so when we're trimming hedges or working in the yard these incidents tend to occur. If you discover a nest that has fallen, it's best to attempt to put it back safely in the tree where it was or at a height safe from predators. If you have any questions about the nest, or if you think it might have been abandoned, it is best to contact a wildlife professional in your area to assess the situation.


Animal attacks are quite common risks to birds and fledglings. Deborah says that of the 18 per cent of birds brought in to her rehabilitation centre due to animal attacks,12 per cent were from cat attacks. Of course your furry feline has natural instincts when they see potential prey nearby, so this cause of injury or casualty isn't unexpected. But knowing that cats can't help their animal instincts, it's up to owners to keep backyard birds safe. Keep your pets indoors or on a leash when they aren't supervised!


Human interference is unfortunately one of the top five in our list. Although most of the time we don't know any better, many birds that are brought into the Wild Bird Care Centre are being "rescued" when in fact they have unintentionally been taken from their mother or nest. If a fledgling is on the ground, it might just be learning to fly. Unless there are predators around or the bird is injured, it's always best to leave the bird where it is.


Hazardous locations such as nests near roads or close to wind turbines, power lines, airports or industrial facilities also lead to bird casualties. Often times we don't take into account that wildlife must navigate through an increasingly manmade world without the instincts to keep away from certain dangers.

You can learn more about the centre at wildbirdcarecentre.org. A special thank you to Deborah for sharing with us!