By April Overall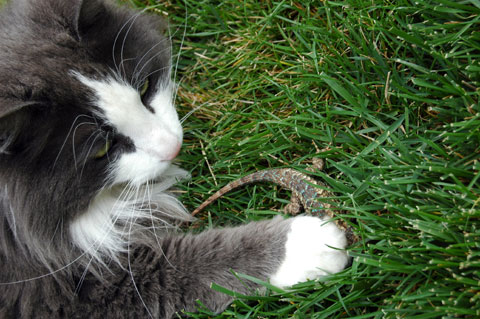 There's no doubt Fluffykins is the perfect feline in your home, but once you let him outside he could be terrorizing the neighbourhood. Every year in Canada, 140 million birds and small animals are killed by domestic cats. According to the Canadian Federation of Humane Societies, 52 per cent of Canadians own pets, and 49 per cent of these owners have cats. These fluffy felines have big advantages over the competition. Native predators like owls, foxes, hawks and bobcats don't have the luxury of protection from disease, predation or starvation. Moreover, domestic cats don't play by the same rules as many native predators. Unlike many native predators, cats aren't strictly territorial; they go where the prey is, upping their odds of catching more critters.
Not my Fluffykins!
Cat-proof Your Backyard
Here's how to cat-proof your home while keeping the peace between your pets and the planet:
• Fence your feeders. Cut out four by six feet of chicken wire and wrap it around bird feeders. When the cat goes in for the kill, the wire will give birds the opportunity to fly away.

• Location, location, location. Place bird feeders far away from bushes or underbrush, where smart kitties hide out.
• Christmas in July. Break out the nutcracker and scatter hazelnut shells under bird feeders. Cats hate sharp shells on their sensitive paws.
• On the fence. Visit catfence.com and invest in cat-proof fencing to keep the kitties at bay.
"He eats all his food at home."
Research shows the hunting instinct is separate from your cat's appetite. In one study, six cats were presented separately with a small live rat as they were chowing down their favourite food. In each instance, the cat abandoned the food, killed the rat, then went back to his kitty chow.
"He wears a bell."
While the ring-a-ding-ding of his collar might stave off small mammals like mice, it might sound like a supper bell to birds. Studies show that birds don't usually associate the sound of a bell with danger. Moreover, cats are smart – so much so they've learned to outsmart their collars and silently stalk prey. Why not try a collar that's for the birds? A sonic cat collar emits high-pitched signals every seven seconds, warning your feathered friends that your cat's close by. According to a small field trial, using a sonic collar resulted in a 66 per cent reduction in the number of birds killed; however, there was no change whatsoever in the number of small mammals killed.
"He's just playing."
It's not playing. It's hunting. And even if the little critter gets away, a cat's saliva carries various bacteria and viruses that can easily be transmitted to prey. According to wildlife rehabilitation centres, only 20 per cent of the small mammals admitted to their facilities for internal hemorrhaging or injuries to vital organs survive.
Bring 'em in
Feeling guilty at the thought of depriving your fur ball of the great outdoors? Don't. According to the Humane Society of the United States, indoor cats often live to celebrate 17 birthdays whereas outdoor rangers typically live less than five years.
The great outdoors pose many threats to your feline:
Beep, Beep. Millions of cats get injured or worse, either from being hit by a car, or from cozying up under the hood of a car to keep warm when the temperature dips.
Mean Streets. Your kitty may come home with tattered ears, abscesses or scratched eyes after coming up against roaming dogs, wildlife or feline foes. And sadly, many animal control centres report instances of cats being abused by humans.
Paws off. Cats get into everything, including the pesticide your neighbours use on their lawns, the insecticides they spray on their plants, the rat poison they sprinkle to nix pests and the antifreeze they use for their cars (just one teaspoon can be lethal to a cat).
Sicko. Cats that spend time outdoors can come down with a long list of diseases and parasites (some of which can be transmitted to you), including: feline leukemia virus, feline panleukopenia virus, feline infectious peritonitis, feline immunodeficiency virus, upper respiratory infections, rabies, plague, cat-scratch disease, toxoplasmosis, roundworms and hookworms.
So, to ensure Fluffykins a healthy, happy life, keep him indoors. There are plenty of ways to turn your feral feline into a homebody:
Do start the transition in the winter when he's more inclined to curl up indoors.
Don't let him be a coach potato. He's used to getting exercise outdoors, so you'll have to satisfy his excess energy with a good bout of play. Bring out the toys!
Do go for a walk. It may take him a while to get used to it, but leash training can be a good bonding experience for the two of you!
Do consider purchasing a cat enclosure. These little dens will allow your cat to roam freely but safely outdoors.
Don't ignore his symptoms. Some cats find the transition from outdoor to indoor life rough. He might be bored or lonely and become destructive, or abandon all use of the litter. If you observe any dramatic changes in his behaviour, don't hesitate to bring him to the vet.