By April Overall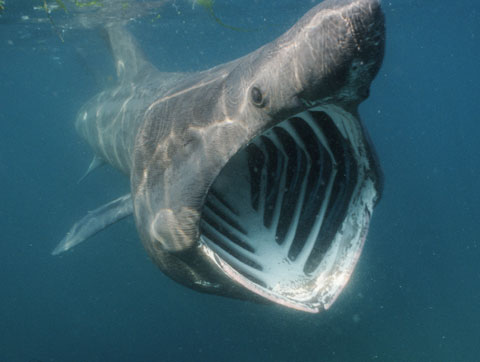 A beast of a fish, the basking shark (Cetorhinus maximus) is the second largest fish in the world, growing up to 15 metres in length. But due to low birth rates, slow growth, late maturity, small population and ship strikes, the basking shark is at risk.
The Committee on the Status of Endangered Wildlife in Canada (COSEWIC) has listed the shark's Atlantic Coast population as being of Special Concern and the Pacific population as Endangered.
The Canadian Wildlife Federation's Endangered Species Program is giving $15,300 to Dr. Andrew Westgate of the Grand Manan Whale and Seabird Research Station in New Brunswick, who is also an Assistant Researcher at the University of North Carolina Wilmington's Department of Biology and Marine Biology. His team will tag basking sharks off the Bay of Fundy to see just how at risk these fish are to ship strikes and where their crucial habitat is in the area. Attaching tags will also help determine the population's wintering grounds, which will help researchers address potential threats that extend beyond their summering grounds.
Life as They Know It
These fish are slow going – right from square one. Basking sharks stick it out in gestation for between 2.6 and 3.5 years. That's the longest-known gestation period for any animal. And the adults are in no hurry to jump in the sack again. They take their time between litters, usually between two and four years. The young will take their sweet time growing as well. Males take between 12 to 16 years to reach maturity, whereas females take 16 to 20 years, and they live approximately 50 years.
Hook, Line and Sinker
Bycatch is an enormous threat to many larger fish. Each year between 1986 and 2006, 164 tonnes of basking sharks were caught up in nets meant for other fish species. According to DFO, most bycatch was taken in trawl fisheries for silver hake, redfish and groundfish, although longline and gillnet fisheries are also known to catch basking sharks.
Shark at 12 O'Clock
While researchers are unclear as to the movement patterns of basking sharks, ship strikes are a real threat to their survival. Many basking sharks have been found near surface waters during the summer, a prime spot to be hit by ships. Moreover, since the basking shark is slow moving at the surface, it's harder for this species to steer clear of ships and avoid getting hit.
How Westgate's Research Fits In
It's no secret that shark populations the world over are declining. But this puzzle can only be completed one piece at a time. And that means researching individual shark species and populations. Taking place from July 2010 to June 2011, Westgate's work with basking sharks from the Bay of Fundy region is the first research of its kind in the area.
Westgate and his team will use tags to track how long basking sharks stick around in the Bay of Fundy, where they go in the winter and what routes they take to get there. They'll also find out basking sharks' favourite spots to chow down and figure out what times basking sharks swim to or near the water's surface – where they're most at risk of being hit by ships. All of this information will help researchers determine which areas are critical for the basking shark and help decide how to go about protecting the shark.