April 12, 2018
By April Overall
How does pollination really work and what species are in charge of this important job? Keep reading and you'll learn all that and more.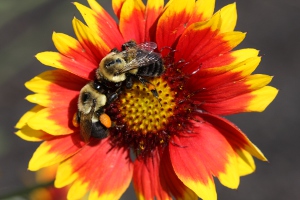 How often do you tip your hat to pollinators after you've scarfed down a scrumptious breakfast or a particularly delectable dessert? Perhaps you don't know about the creatures responsible for many of the foods that make your mouth water. Let's explore the process of pollination and the elements and animals behind this natural wonder.
What is Pollination?
Pollination is the process of transferring pollen from one flower to another. In doing this, plants are able to make tiny seeds and procreate. Now some plants are able to pollinate all on their own, but others need a bit of help. These plants require cross-pollination via one of the pollinators below.
Wind
The wind is a powerful pollinator for many plants. When the wind whips up a good breeze, it can carry with it the pollen of one plant to another. There are plenty of species that rely on wind pollination, including some trees like pines, firs and spruces. And there are plenty more plant species that are wind pollinated, like oats, rye, corn, rice, barley and wheat. Because these plants rely on the wind to procreate, they don't need to be attractive to bees, butterflies or other pollinator species. Therefore, these plant species have very little to no scent or nectar and are hardly bright in their colouring. What they do require is plenty of pollen so that the wind can carry as much of it as possible to other plants of the same species.
Bees
These pollinator powerhouses are extraordinarily beneficial to our natural world. Indeed, one in three bites of food you take is thanks to bees. Canada is home to 1,000 bee species that buzz from flower to flower in our gardens, agricultural lands, meadows and more collecting pollen and nectar to feed themselves.
Every bee collects pollen differently while they're maneuvering from one flower to another. Some bees, like the Green Sweat Bee or the Mason Bee, will collect pollen on special hairs on their abdomen, called scopae. Others, like bumblebees, actually have long hairs on their legs that curve toward their bodies which act as a sort of basket that collects pollen.
Bees spend their days seeking out blossoms that are jam-packed with nectar. Many of the kinds of posies they enjoy smell quite sweet or even minty. They also opt for brightly coloured blooms of blue, yellow or purple, so plants like Joe Pye Weed, Blue Columbine, Vervain and sunflowers are all good bets to attract bees. They also like a range of sizes in their posies; smaller bees will go after flowers that are open, like Aster or coneflowers, so they can reach the nectar easily enough, while larger bees can work their way into tubular flowers, like the Great Blue Lobelia.
Pollinating Flies
There are approximately 6,000 species of pollinating flies across the globe. These pollinators aren't quite as hairy as bees, and so they aren't able to transfer quite as much pollen between flowers, but they still transmit plenty of pollen and are important to the pollination phenomenon. Pollinating flies, like the Hover Fly, search for open blooms that make it easy for the fly to access their nectar. They're also usually attracted to yellow or white flowers and so coneflower, Prickly Rose, goldenrod and sunflowers are perfect picks for these tiny creatures.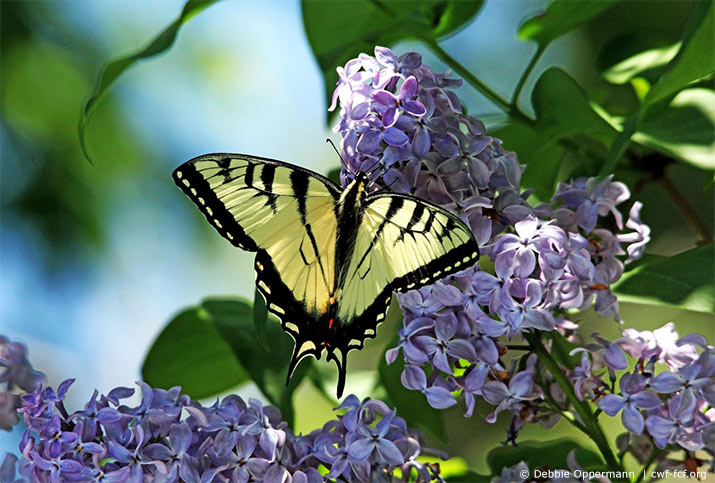 Butterflies
Canadians are lucky to share our landscape with 275 butterfly species. These show stopping pollinators might not be quite as efficient as bees, however they are important to the world of pollination. When they sip nectar from blooms via their proboscises, a long coiled mouthpart they unfurl to drink from flowers, some of the pollen will transfer onto their legs and body, helping the transfer of pollen from flower to flower.
Butterflies are very attracted to blue and purple coloured flowers, many of which are incredibly nectar rich, although they'll happily visit flowers of other colours too. Some good choices include Liatris, Silvery and Prairie Lupines, Joe-pye Weed and milkweed. The latter is critical to the Monarch Butterfly which relies on milkweed during their larval stages and later to provide the energy they need to make their 2,500 kilometre journey in the autumn.
Hummingbirds
Canada is home to five hummingbird species. These welcome visitors have long, thin bills that are able to dig around in bell or trumpet shaped flowers for nectar. After they've had their fill, they'll frequently emerge with a face and neck dusted in pollen. When they visit the next flower, some of that pollen will fall off, enabling flowers of the same species to reproduce. If you're hoping to attract these stunning birds to your garden this summer, plant Wild Columbines, native Canadian lilies, Red-flowering Currant and fireweed. The more red coloured flowers you plant, the more hummingbirds you'll see – they seem most attracted to red posies.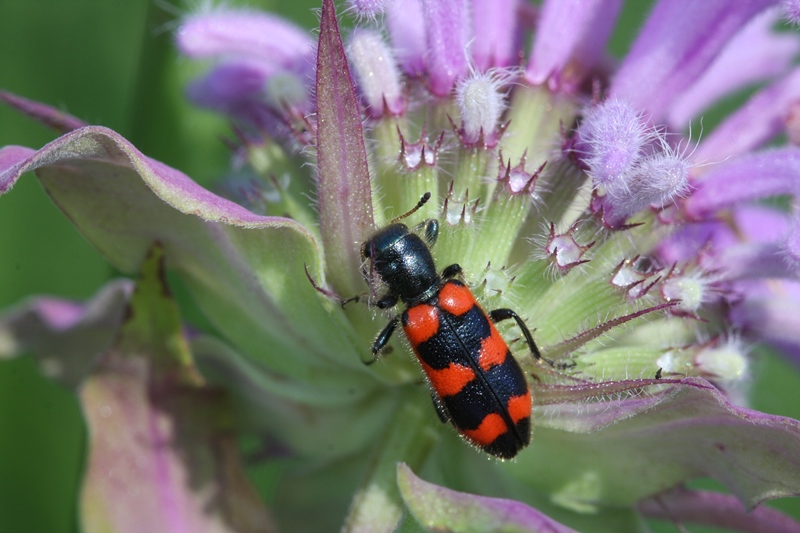 Beetles
Approximately 150 million years ago, beetles started pollinating plants. They showed up a whopping 50 million years earlier than bees did! Beetles remain important pollinators today. When they visit a plant, some of the pollen will get stuck to their bodies, and therefore, when they move on to another plant of the same species – they help the pollination process. Beetles, like the Checkered Beetle, aren't too fussy about colouring – they'll happily visit dully coloured plants in white or green. What they do need are flowers that are broad and open that they can reach fairly easily. If you're hoping to attract beetles to your garden, plant sunflowers, aster, milkweed or coneflower.
Night-flying Moths
While most pollinators settle down for the night after sunset, moths are just getting their day's work started. Pollinating moths use their long tongues to gather nectar from flowers; while they're sipping away, pollen gets transferred to their torsos. As they move on to the next flower, the pollen on their bodies transfers over, thereby pollinating the flower. You might wonder how in the world they're able to find the flowers in the first place. They seek out very pale flowers in whites or light greens that might stand out against the dark sky. These flowers also often have a potent sweet scent that lures moths, like Evening Primrose.