September 9, 2015
By April Overall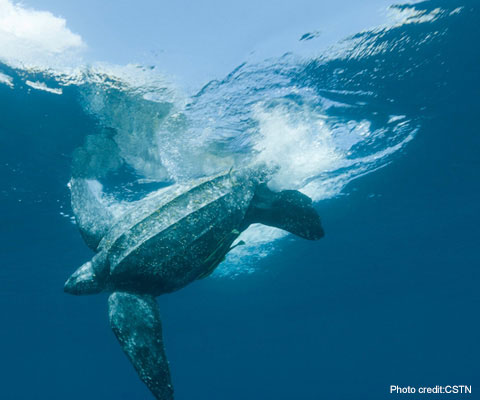 Got a picky eater on your hands? It's astounding how many kids would be happy to have a peanut butter sandwich for dinner day in and day out (minus the crusts, of course). At least you know it's just a stage. Can you even imagine being content to eat the same thing repeatedly for your whole life? Well, many wildlife species right here in Canada do just that! And you thought your kids were picky.
Pass the Krill
Seeing as the blue whale is the world's largest mammal, you'd assume they'd gobble up all kinds of prey – both big and small. Not so! Weighing in at over 181 tons, this mammoth mammal feeds nearly entirely on tiny krill. That means the blue whale needs to consume enough krill in order to sustain itself, and so, in a single day, a blue whale can eat up to 40 million krill. With its jaws open wide, the blue whale will consume a school of krill in a single mouthful. And when it closes its mouth, it pushes the water out with its tongue, but traps the krill in its mouth.
More Milkweed, Please!
The monarch butterfly lays its eggs on the milkweed plant, and when the larvae emerge, they feed exclusively on this plant until they are ready for metamorphosis. The sap of this plant comes in particularly handy for this species as predators dislike the taste of it. As a result, by consuming the plant at the larvae and caterpillar stage, it makes the monarch less susceptible to predation.
A Hankering for Prairie Dogs
The black footed ferret is so dependent on its primary prey, prairie dogs, that it nearly became extinct when local farmers eradicated troublesome prairie dogs from their land, leaving ferrets in the lurch. It's no surprise they had such a rough go, considering that a family of four ferrets will eat 763 prairie dogs in a single year. After they hunt them out in their burrows, ferrets will make themselves at home in the abandoned digs.
Are Molluscs on the Menu?
You can bet on the Atlantic walrus to order molluscs for dinner. They choose to live near shallow waters so they can reach molluscs easily (which live in sediment at the bottom of the ocean). They simply dig them up and chow down. While walruses will also eat bottom dwelling fish and invertebrates, molluscs are by far their number one choice.
Just Jellies
In Atlantic Canadian waters, leatherbacks usually feed on lion's mane jellyfish (Cyanea capillata) and on moon jellyfish (Aurelia aurita). However, leatherbacks will eat anything if it looks like a jellyfish - this may be why leatherbacks swallow marine debris like plastic bags and deflated balloons.
In Canada, leatherbacks can be found feeding on jellyfish in waters off Atlantic Canada (which includes Nova Scotia, New Brunswick, Prince Edward Island and Newfoundland), Quebec and British Columbia. Our friends at the Canadian Sea Turtle Network have found that leatherbacks eat so much while they are here that they weigh approximately 33 per cent more than they do when they reach the nesting beaches. The pleated shape of the leatherback's carapace, with its ridges and troughs, gives the turtles room to expand. Keep an eye out for our upcoming Great Canadian Turtle Race to see where tagged leatherbacks journey after they've gorged on enough jellyfish here in Canada!
Pour Some Sugar on Me
This little tidbit might make you rethink dessert. Mosquitoes are suckers for sugar. It's the sugar content in blood that they go crazy for. Female mosquitoes will feed on this blood to develop eggs, but both males and females will nosh on the nectar of flowers and other sugar sources too.