March 12, 2015
By April Overall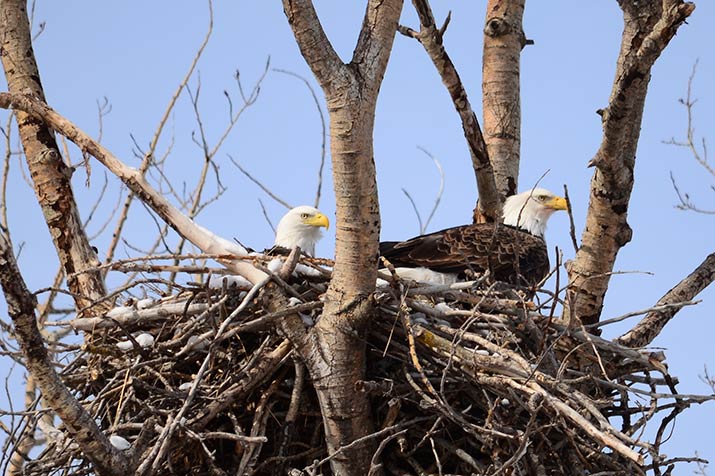 While you're washing your windows, vacuuming behind the couch (oh the horrors!), and dusting your baseboards this spring, Canada's birds are sprucing up their nests too. Keep reading to learn about the vast varieties of nests our feathered friends create each spring.
The Mansion
Bald eagles are the Joneses of the avian world. While they might not go so far as to build east and west wings for their platform nests, their abodes are by no means modest. Males and females collect branches and sticks and build an initially "small" nest about 15 to 37 metres off the ground. But each year, they add to that nest. Eventually, their abodes become so grand that a human could sit comfortably in it (please don't get any ideas). So how big can these nests get? Thus far, the record for the biggest nest sits in St. Petersburg, Florida at three metres wide and six metres deep.
The Mud Hut
Don't we all internally cry "Yippee!" when we spot our first robin after a long, cold winter? Their presence is a wonderful indicator that spring is finally here. Fittingly, American robins build their nests with all of the signs of spring –grass, twigs, and moss. Females form these materials into a cup and keep it glued together with mud. When the nest is built, she lines it with more dry grass for her nestlings. Robins are not overly picky about the location of their nests – they usually choose the lower half of a tree, but they also nest in gutters, eaves, and even on porch lights.
The Log House
The next time you happen upon a dead tree (especially in your backyard), look a little closer. There's nothing really dead about it. Many animals use dead trees for shelter, including the downy woodpecker. This interesting bird chooses either dead or partly dead coniferous trees to house their nests because the wood (likely infected by fungus) is much more pliable and easier to drill through. Indeed, males and females work in tandem for one to three weeks to drill through these trees and create their nests (imagine how much longer it would take if they opted for a live, strong tree!). After making a hole (2.5 to four centimetres in diameter), they'll get to work on the tree's interior and make a cavity between 15 and 30 centimetres deep where they'll lay their eggs on wood shavings.
The Bachelor Pad
Ruby throated hummingbirds construct teeny tiny nests to raise their young. They're so small (roughly the size of a thimble), they're easily mistaken for knots in trees. This tiny nest will sit atop of thin branches of oak, birch, poplar and pine trees about three to 12 metres above the ground. They might be mini, but they take a lot of work to put together. For six to 10 days, these delicate birds collect thistle or dandelion down for their nests and bind the material together with either spider silk or pine resin. To make sure their abodes blend in with their surroundings, they stick pieces of moss and lichen to the exterior of their nests.
The Cottage
Goodbye hustle and bustle, hello serenity. Since common loons have a hard time walking on land, it's important to the species that their nests be as close to the riverbank or lakeshore as possible. They also build their nests on camouflaged and private areas with rather steep drops to the water so the couple can make their way to the nest underwater and thus undercover in order to outwit predators. Over the span of a week in late May or early June, loons collect plant materials like sedge and marsh grasses to build their nests and will come back to the same nest over the years instead of building new ones annually.
The Hammock Hut
Baltimore orioles fashion particularly quirky nests out of grass, bark, wool, twine, fishing line and even horsehair which form a sock-like structure. The females are will spend up to 15 days weaving this remarkable nest on American elms and maple trees. When finalized, the nest is about three or four inches deep and the eggs sit at the bottom (eight to 10 centimetres wide) on feathers.