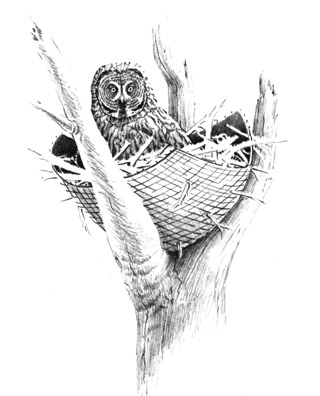 Background
If you ran a popularity contest for birds, owls would probably win hands (or talons) down. Canada has 16 species of owls. The great horned owl, for example, nests in almost every part of the country aside from the northern tundra and Prince Edward Island. The secretive great gray owl is rarer. It lives in boreal forests and wooded muskeg from the northern Yukon through British Columbia, the western provinces, and northern Ontario and Quebec.
Biologists working to conserve owls are sure to welcome your assistance. An easy way to help is to build nesting structures. The following simple design will please great horned, great gray, and other large owls that don't construct their own nests but raise their young in the deserted nests of hawks or crows. See "Build and Maintain Nesting Boxes" for a design that will attract smaller species of owls.
Procedure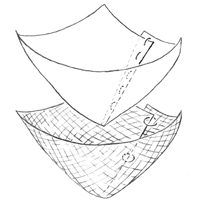 Construct a cone from a 1 m square piece of chicken wire. Start by cutting from one corner to the centre and then overlap the two cut edges until the cone is approximately 0.5 m deep. Hold the cone together, using pliers to bend the cut ends of chicken wire around the overlying wire.
Line the cone with a 1 m square piece of tar paper. Cut from one corner to the centre
of the tar paper, folding it into a cone that fits perfectly inside the chicken wire structure. Cut a drain hole in the bottom.
Build a stick nest inside the cone with twigs, leaves, and branches. Hold the nesting material together by interweaving it with the slender, flexible branches of shrubs and trees, such as dogwood and willow. Use these branches to weave the nesting material firmly into the chicken wire through the tar paper. Place the finished cone in the crotch of a tree 4.5 to 6.5 m above ground. Use strong wire to secure the structure in place.
The cone should be in place by fall, as owls choose nesting sites during winter.
Maintenance
In April, check for signs of activity. Do this from a distance - never climb up to an owl's nest. Adult owls will attack to protect their young. Contact your local wildlife department to report your progress. In some areas, wildlife officials might want to band the young birds.
When your artificial nest is not being used, make necessary repairs. A nest can be damaged by wind, but annual maintenance will mean long-term success.