April 4, 2013
By Annie Langlois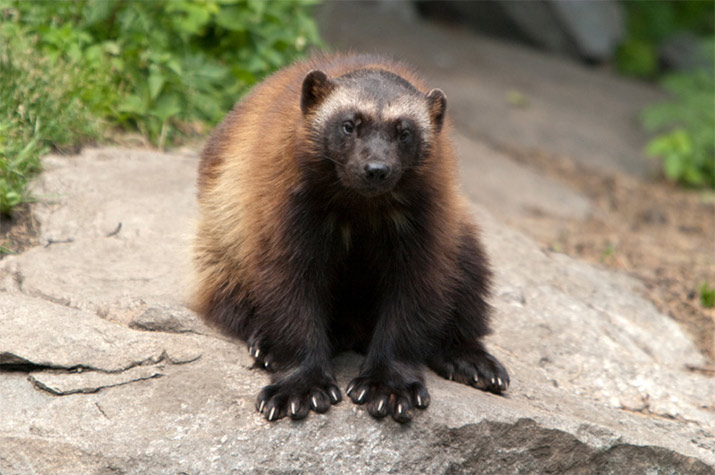 The wolverine has the reputation of being one of the most ferocious, gluttonous and fearless animal in Canada. But how much of this is actually based in fact? Given that very few people have observed the wolverine in its natural habitat, it's not as easy to figure out as it sounds. Wolverines have low population numbers and densities, and they live in remote areas of the boreal forest. They are notoriously hard to study. Still, the little we know about this species can help shed some light on the truth behind this animal's bad reputation.

For such an allegedly ferocious creature, wolverines aren't very big. They are stocky weasels of about the same weight as a medium-sized dog. Despite their relatively small size, they are reportedly able to take down very large prey, like moose. But that's hardly the norm – wolverines mostly rely on scavenging for feeding. They are very strong and can drag a big carcass for some distance, but they are not usually the predator. Wolverines depend on others, like wolves, to kill most large prey. But since wolves don't usually leave leftovers, the "gluttonous" wolverine must be able to fast for many days in a row while looking for food over great distances. When they finally find food, wolverines can hide the excess and keep it for a later day. They have very strong jaw and neck muscles that can help crunch through frozen muscle and bone to get to the parts overlooked by the original predator. This is likely not a clean business, which might be why some people think wolverines are greedy or gluttonous. When a wolverine is eating, it may defend its food from much larger animals, like bears, making it seem fearless. But it likely isn't, especially when dealing with humans. Wolverines are exceedingly shy and prefer areas with very little to no human disturbance.

So are wolverines as fearsome as they have been depicted to be? Probably not, but researchers need to gather much more data about the species to get a clearer idea of its true character. Until then, the wolverine will remain one of Canada's most mysterious species.

You can find out more about the elusive wolverine by reading the updated fact sheet or by watching the new video, both by Hinterland Who's Who!