By Megan Findlay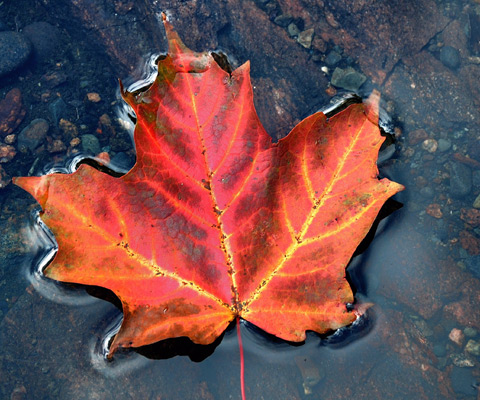 Photo by: Ms. Renee Marie Wysynski of Sault Ste Marie, ON
In Canada, the average temperature has increased by about one degree over the last 150 years. One degree may not sound significant to those of us accustomed to central heating, but to a planet whose climate is an infinitely complex, interdependent system responsible for supporting all life, from the lilluputian to the colossal, the sub-oceanic to the subtropic, one degree can tip everything towards perilous imbalance. By now, we're all familiar with elements of that peril; images of our planet's Arctic species retreating from the edge of their disappearing world, for example, have become bleak symbols of the need to address climate change. But the Arctic is not the only habitat dramatically affected by rising temperatures. If climate change continues at its current rate, Canada's wilderness will undergo a significant transformation. The forests of tomorrow will look very different from the forests of today.
If you're ready, step right up to our crystal ball. How will Canada's forests be affected by climate change? Have a look. What do you see?
A Fury of Fire
Under natural conditions, wildfire is part of a healthy forest's life cycle. Some species even require fire to self-perpetuate. The boreal forest's jack pine, for example, requires the heat from a fire to open its cones and release seeds. By burning away older trees, which are susceptible to disease, and releasing nutrients trapped under leaf litter, fires also provide the space and nutrition for those seeds to grow. Of course, these benefits are rivaled by serious consequences; many forest species are displaced by fire, and areas that burn too often may not be able to maintain their natural biodiversity. The frequency, intensity and duration of wildfires are the keys to maintaining a balance between their positive and negative outcomes.
Climate change may disrupt that crucial balance. Changes in precipitation and temperature patterns suggest that forests will become much warmer, drier places in the future. Under these conditions, fires will increase dramatically; some models predict a 50 per cent jump in wildfire occurrence over the next century. The transformative effect of this increase can only be estimated, but scientists fear that many forests will not be able to maintain their regenerative qualities as fires become more frequent.
Disease and Infestation
Forests once protected by cold winters are becoming more hospitable to exotic diseases and pests. The Asian longhorn beetle, for example, likely arrived in Canada by boring into wooden crates shipped out of China. Today, milder conditions and a lack of natural predators have protected small populations of the beetle in pockets of Canada; a proliferation of this exotic pest could be devastating to Canadian forests.
Native insects may also pose a significant threat to Canadian forests constrained by climate change. One of the best-known examples is the mountain pine beetle, which has attacked lodgepole pines in an area five times the size of Vancouver Island. Under normal conditions, this insect plays a role in developing younger forests by attacking old, vulnerable trees. Over the past decade, unusually hot, dry summers and warmer winters have led to an epidemic; if these conditions continue, 85 per cent of B.C.'s mature lodgepole pine trees will be dead, threatening a large part of Canada's western boreal forest.
Newfound Appreciation
Climate change is having a significant impact on Canada's forestry sector, though the long-term effects are difficult to predict. Resource availability, compromised by drier conditions, pest epidemics and increased fires, will likely define the forestry sector over the next century. Public response to forestry practices is also having a transformative effect. As Canada's remaining natural spaces come under serious threat, their social value is catching up to the value of forestry products. The contemporary concept of intensive silviculture—which adapts forestry practices to address the needs and social values of a diverse community—is quickly becoming a cornerstone of the forestry industry.
To learn more about what the future may have in store for Canada's forests, visit Hinterland Who's Who.