March 12, 2015
By Jerika Bradford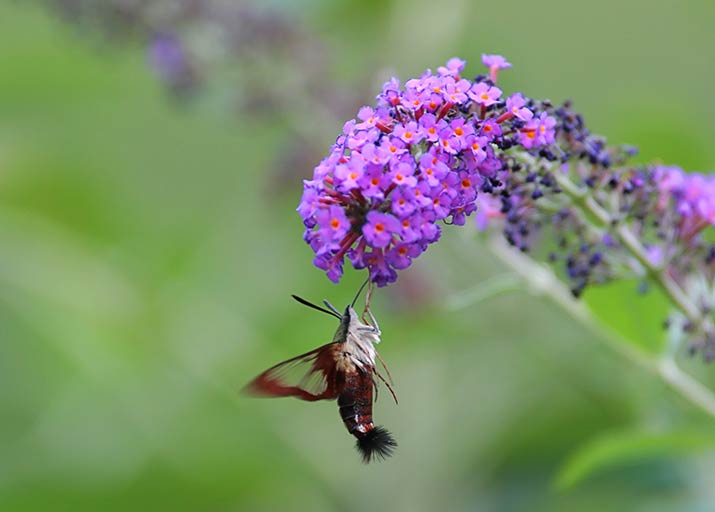 Wait a hot minute – does that hummingbird look a little off? It's not your eyesight, it's actually a moth.

The hummingbird has always been touted as a key player in the pollination world. This lookalike is not only overlooked as a pollinator, but most of the time the hummingbird takes the credit.

Unlike most moths, the hummingbird moth is very active during the day. They can be seen flying and feeding around open woodlands and shrubby areas, gardens and meadows. If you're lucky you might see one from May until July since they are found right across Canada – even in the Northwest Territories!

The hummingbird moth's colouring is pretty similar to a hummingbird's. It's yellowish-green all over with red-brown spots on its abdomen, dark green lines on its back and a horn on its tail. You can spot these little guys hovering over flowers and collecting nectar from open blooms. This happens to be how they help pollinate your garden, too – the pollen gets caught on their upper body and when they go from flower to flower, they pollinate!

So which plants and flowers should you plant in your garden this spring to keep the hummingbird moth around? Plant beebalm and bergamot, red clover, lilac, phlox, snowberry, hawthorns, cranberry, blueberry, vetch and thistles. The young larvae love to feast on the leaves of honeysuckle, snowberry, hawthorns, cherry and plums, so don't forget to make room for some of those in your backyard!

Most importantly, grow a variety of plants and flowers that benefit pollinators like the hummingbird moth, and also bees and butterflies too. And as always, stay away from chemical pesticides; they do more harm than good in your garden. Just think of how amazing it will be this summer to sit back and relish the sight of hummingbird moths flitting around that gorgeous garden of yours!