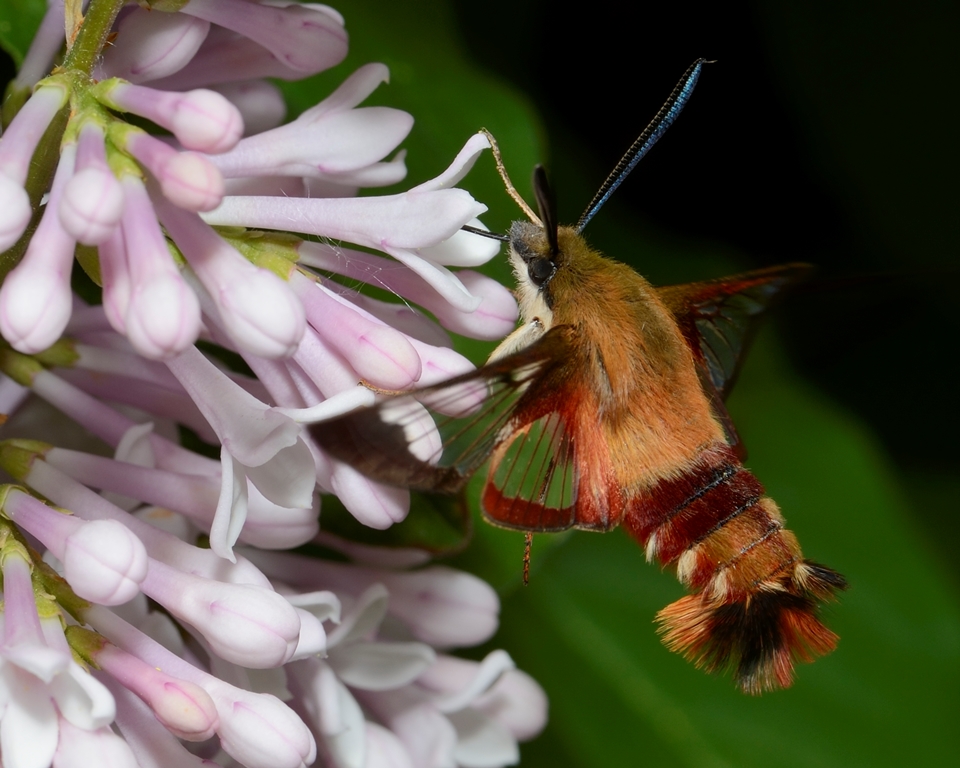 Scientific Name:
Hemaris thysbe
Classification:
Kingdom: Animalia Phylum: Arthropoda Class: Insecta Order: Lepidoptera Family: Sphingidae Genus: Hemaris Species: thysbe
Description:
Adult wingspan is approximately 4–5.5 cm. The adult (moth's) head and upper back area (thorax) is olive to tan, and the chest area (thorax) is cream or white. Their lower back and belly (abdomen) are dark reddish-brown or black (though the lower portion of the lower back can be lighter in colour). Their wings are clear with a reddish-brown border and veins.
Young (larvae/caterpillars) are bright green with a line of white dots that end in a fleshy, pointy extension resembling a tail. There are also small reddish spots along its side.
Similar Species:
Slender clearwing
(H. gracilis)
and snowberry clearwing
(H. diffinis)
both have different patterns on the upper portion of the forewing (discal or forewing cell) where H. thysbe has two small veins running horizontally, though this is hard to tell when the moth is in motion. The colouring on the body of these other two species is different and their legs are darker, whereas H. gracilis has a pale band across mid-back and red legs, and H. diffinis is paler on the upper back and has black legs.
Photo Gallery:
| | | |
| --- | --- | --- |
| Photo by: Heather McIlravey | Photo by: David Tomes | Photo by: Dave Stacey |
News:
Tweets about "pollinators"
Range:
Across most of Canada with the exception of Nunavut.
Habitat:
Open woodlands and shrubby areas, gardens, meadows.
Diet:
Adults (moths) drink flower nectar from a wide variety of plants including beebalm and bergamot, red clover, lilac, phlox, snowberry, cranberry, blueberry, vetch and thistles.
Young (larvae/caterpillars) eat the leaves of honeysuckle
(Lonicera spp.)
, snowberry
(Symphoricarpos spp.)
, hawthorns
(Crataegus spp.)
, cherries and plums
(Prunus spp.)
Behaviour:
Hummingbird clearwing moths fly and feed during the daytime. The adults feed from flower nectar by hovering in front of the flower the way a hummingbird does, rather than like a bee, which lands on the flower itself. As fully grown caterpillars, they burrow in the leaf litter to make a cocoon, emerging soon after or waiting until the following spring.
Primary Ecosystem Roles:
Pollinator (They drink nectar from blooms with open or deep flowers and pollinate many of them from the pollen that gets caught on their upper body.)
Status:
(Verified February 10, 2014)
COSEWIC: not assessed
NatureServe: National rank - N5 (secure), Global rank - G5 (secure)
NOTE: While these assessment organizations do their best to stay current, the process of assigning or updating a species status may take a while to reflect real life changes.
Threats and What You Can Do:
While there is no official threat recorded for this species, they benefit from growing a variety of plants native to your area that will feed both adults and larvae.
Notes:
Special thanks to Chris Darling, Antonia Guidotti and Peter Hall for their help with this species profile.
More on this Species:
References:
Peterson Field Guides – Eastern moths. Covell, Charles V. Jr., 1984. Houghton Mifflin.

http://www.butterfliesandmoths.org

http://pnwmoths.biol.wwu.edu

http://bugguide.net

http://eol.org/pages/508212/overview
---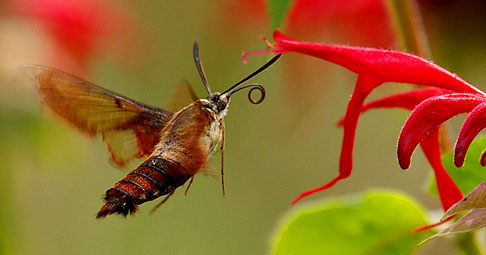 Text by Terri-Lee Reid
Images by Tom Lusk
Resembling both a bumblebee and a hummingbird, the hummingbird clearwing moth is a treat to discover.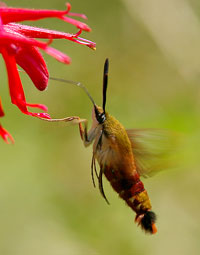 Hovering in front of a flower, beating its wings so fast they blur and retrieving nectar with its long proboscis, there's no wonder this beautiful creature makes us take a moment for a second glance.
A member of the sphinx moth family, the hummingbird clearwing moth has a wingspan of between four and six centimetres. Initially their wings are covered with reddish-brown scales, but after their first flight, these scales fall off leaving behind "clearwings" with the exception of veins and wing borders. Their bodies taper at both ends and are covered in olive green hairs with reddish-brown bands across the abdomen.
Unlike most other moths, clearwing hummingbird moths are active during the day. They can be seen fluttering around fields, forest edges, meadows and cultivated gardens extracting nectar from flower blossoms. The far-ranging species can be found from Newfoundland west to British Columbia, and even in Canada's North.
The clearwing hummingbird caterpillar is yellowish-green all over with red-brown spots on its abdomen, dark green lines on its back and a horn on its tail. Rarely considered a pest, these caterpillars feed on the leaves of honeysuckle, viburnum, hawthorn, snowberry, cherries and plums.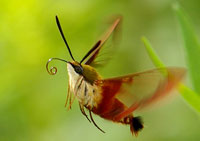 As caterpillars, they wrap themselves in cocoons made of leaf litter and spend the winter on the ground. They emerge as beautiful clearwing hummingbird moths that can be seen flying from May typically through until July.
While adults share some of the same plant choices as the larvae, clearwing hummingbird moths also get their nectar from beebalm, phlox, cranberry, vetch and red clover.
The best way to attract this daytime-flying moth to your backyard is to grow a range of plants that attract both the caterpillar and the moth. It's important to provide for all life stages. Avoid the use of chemical pesticides, which often harm organisms other than those intended. Caterpillars will also benefit from leaf litter left on the ground, which they will use to construct cocoons to overwinter in.
This spring, remember to take a closer look. You may just be lucky enough to find a clearwing hummingbird moth in your own backyard!