By Stacey Scott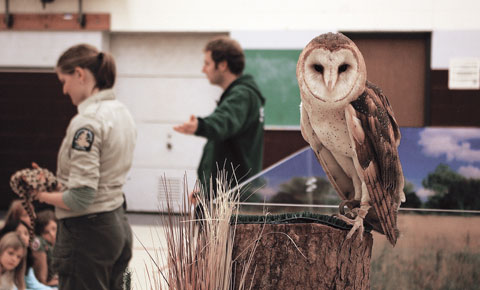 Photo: Muskoka Wildlife Centre
Ontario's grasslands are home to over 200 native plant and animal species. Sadly, with less than three per cent of the original tall grass prairies remaining, it is also one of the most endangered ecosystems in the world. So what is being done to help conserve this rapidly disappearing ecosystem and its rare inhabitants?
Muskoka Wildlife Centre's grasslands stewardship program. With a little help from some wild guests like the barn owl and American badger, trained wildlife educators inform students on the disappearance of grasslands and the importance of conservation for species at risk. Through these interactive presentations, students in grades four, six and seven across the Southern Ontario region learn simple ways they can conserve local grasslands, along with how they can identify some of its rarest inhabitants.

By supporting habitat projects like the grasslands stewardship program, and co-operating with likeminded partners like the Muskoka Wildlife Centre, youth garner a sense of responsible stewardship while acquiring life long skills to conserve Canada's diverse wildlife. Find out more about current projects being funded by CWF.