October 7, 2015
By Holly Wilson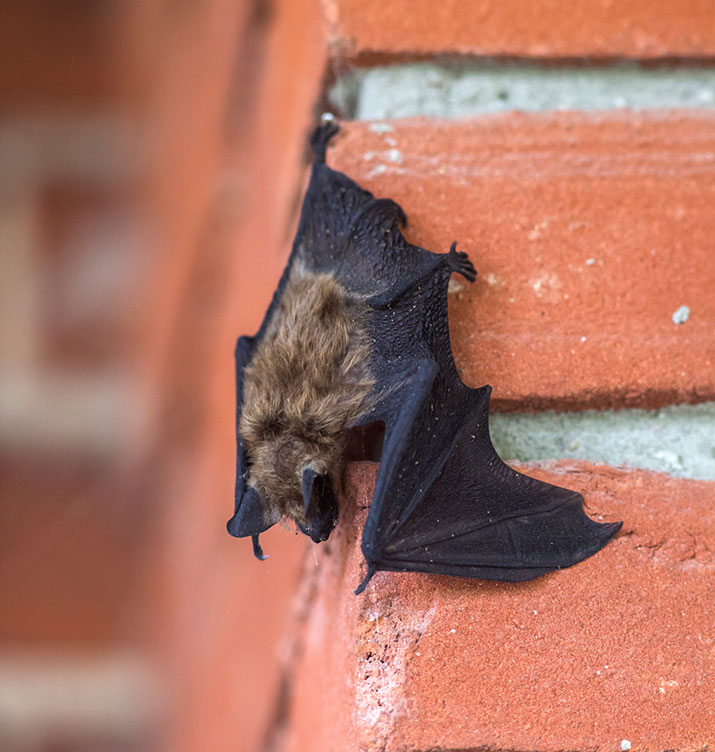 During the month of all things creepy and crawly, we're asking Canadians to take bats off the list of creatures that make you squeal. While bats may seem a little spooky, they actually help us more than you may realize and now, they need our help more than ever!
Bats are the primary predator of night-flying insects such as moths, beetles, and mosquitos. They can eat up to 50 per cent of their body weight each night so we can thank them for playing a significant role in managing the pests that eat our crops and the blood-suckers that swarm while we're outside enjoying a summer's eve.
If this isn't reason enough to help the bats, someone who could certainly change your icky feelings of these winged mammals is our lead bat researcher, Karen Vanderwolf.
About Karen Vanderwolf
Karen has studied and continues to study bats and white-nose syndrome (WNS), the fungus that is decimating North American bat populations. She has her Bachelors of Science (Hons.) in biology from the University of Western Ontario, her Masters of Science from the University of New Brunswick, , and is now pursuing her doctorate at the University of Wisconsin-Madison. Over the years, Karen and her colleagues have trekked through snow and ice, climbed into steep, narrow caves and tunnels and have done incredible research!
White-nose Syndrome
WNS was first documented in New York in 2006 and discovered in Canada in 2010. Karen was part of the team that discovered it in New Brunswick in 2011. "When we approached the cave there were dead bats around the entrance and inside the cave were thousands of dead and dying bats," reminisces Vanderwolf. "Over the following two years we watched WNS spread to all known bat hibernacula in the province. Consequently the bat population rapidly dwindled to
In her fall survey last year, Karen was hopeful that finding 22 bats in NB caves (down from 24 the previous winter) meant the decline in bat populations was starting to level off. Unfortunately, this past May, only 12 bats were observed. The bat population in NB was once upwards of 7000.
The fungus, which looks like a white powdery substance, grows over the bats while they are hibernating. It causes them to wake which uses their precious fat reserves which leads to starvation.
Is there a cure? Researchers at Georgia State University are testing a common North American bacteria that seems to be working. Karen has been collaborating with them, sending cultures of different types of fungus to determine if the bacteria could affect other wildlife living alongside bat populations. Unfortunately, the cure may be a little too late for some areas but Karen remains hopeful that between a possible cure and hopefully an eventual natural resistance, bats will make a comeback.
How Bats are Helping Science
If you're still not convinced that bats aren't scary little vampires (there are three species of bats that drink blood but they all live in South America and Mexico), then check out Karen's blog from June about the many ways bats have contributed to science.
Bats have inspired several scientific advancements for humans. The Sonic Eye is an ultrasonic helmet that can help blind people 'see' their surroundings using echolocation, much like a bat.
Draculin is an anticoagulant derived from the saliva of vampire bats, currently being explored as a treatment for heart attacks and strokes.
Bats also have an incredible life-span, some living 30 to 40 years! Research of their virus-resistant DNA may lead to treatments for cancer and infectious diseases in humans.
What's Next for Bats?
With females only producing one pup each year, it will be a long road to population recovery but Karen is not losing hope. In an effort to educate the public and youth (our future bat conservationists!), Karen has given a number of public talks and school presentations about bats and WNS. It's important that those of us who like exploring caves be certain there are no bats residing there – not because we should fear them but because the WNS fungus can easily be transmitted from cave to cave on our shoes and clothing. There are also a number of other things we can do to help, such as planting native plants to ensure bats have plenty of insects to feast on and putting bat boxes up in your backyard.
Moreover, we need to change our perception of bats – they're not a nuisance, and shouldn't be treated as such. "It's important to minimize human-cause mortality of bats. Bats will sometimes roost in buildings and many people are not comfortable with this," says Vanderwolf. "Instead of destroying the colony there are humane ways of excluding bats from your house and providing alternate roost sites."
HelpTheBats.ca is the Canadian Wildlife Federation's response to ensure Canadian bat populations are protected. By making a donation, pledging to make your garden a bat haven, or simply learning more and spreading the word, you're helping researchers like Karen Vanderwolf continue their great work in the fight against white-nose syndrome.