May 9, 2011
By Stephanie Poff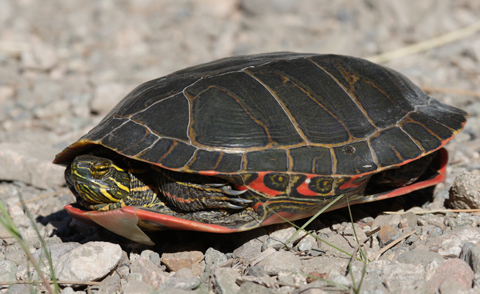 The western painted turtle (Chrysemys picta bellii) can be found in Canada's western provinces, as far east as Ontario. But this colourful turtle is struggling to survive. The Canadian Wildlife Federation is funding research to better manage western painted turtle populations. The Rocky Mountain western painted turtle is listed as of special concern by the Species at Risk Act and COSEWIC.

The Canadian Wildlife Federation has granted The Revelstoke Reach Western Painted Turtle Monitoring Program $13,040 to assist in their summer 2011 monitoring field work, led by Dr. Karl W. Larsen and N. Schiller. The work will be taking place in Arrow Lakes Reservoir, BC in partnership with BC Hydro.

The western painted turtle is the only native freshwater turtle found in B.C. and Alberta. Turtle populations in the west are believed to be diminishing due to human disturbances such as loss of wetland habitat, road construction, increased recreational activities and potentially, hydroelectric operations.
How Larsen and Schiller's Research Fits In
The western painted turtle plays a vital role in maintaining biodiversity throughout Canada. There is limited knowledge about their populations, how they interact with their environment, and how often they can actually be seen. Funds from CWF will be used to develop a predictive modelling 'tool' that will aid in future population studies and research on these turtles. The turtle population being studied is located in the Arrow Lakes Reservoir near the town of Revelstoke, BC. This population is of interest because of the potential impacts the reservoir operations may have on turtle survivorship and productivity.

The project involves a two-year field examination that assesses the impacts of reservoir operations on these turtles and makes recommendations for habitat enhancement. Dr. Larsen and N. Schiller's work will not only provide the foundation for long-term monitoring and perseverance of this particular population, but it will make a substantial contribution to our ability to manage this species within Canada.