June 3, 2009
By Stacey Scott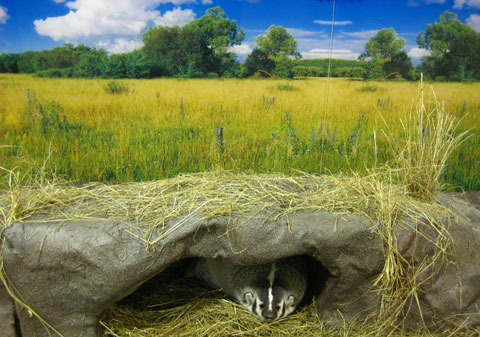 Photo: Muskoka Wildlife Centre
Grasslands once spanned the southernmost tip of Ontario and went as far north as Georgian Bay, but due to continued development and invasive species they are now one of the most endangered ecosystems in the world. So what is being done to help conserve this rapidly disappearing ecosystem and its inhabitants? To date, the Canadian Wildlife Federation has contributed over $15,000 to the Muskoka Wildlife Centre's (MWC) Habitat Stewardship Program to educate youth about the conservation of grasslands and what role they can play to help local species at risk.
Only three per cent of the original tall grass prairies remain. This is an alarming attribute to an area that houses over 200 native plant and animal species, including several at-risk species like the barn owl, the American badger and the Eastern fox snake.
Since the fall of 2008, trained wildlife educators from the Muskoka Wildlife Centre have visited schools across the Southern Ontario region to raise awareness about the disappearance of grasslands and the importance of conservation. Through interactive presentations, students in grades four, six and seven learn ways they can conserve local grasslands, along with how to identify some of its rarest inhabitants. This dynamic program will continue until late February 2009.
The MWC specializes in wildlife conservation and is devoted to educating the public about nature they encounter on a daily basis. Every year the MWC conducts outreach to thousands of people through dynamic presentations with live animals. Through the Habitat Stewardship Program, a total of 50 schools in the southern Ontario region will be provided with tools to help conserve the grasslands and identify the species at risk.
To learn more about the MWC, visit their website at muskokawildlifecentre.com.
Simple ways you can help Ontario's grasslands:
Turn unused farmland into grassland habitat by planting seeds of native wild grass and wild flowers.
Pull out invasive trees and plant species that have invaded grassland areas.
Avoid using pesticides.
Communicate the importance of grasslands to friends, family and neighbours.
Keep your cat indoors so it cannot disturb or kill wild birds.
Report American badger, barn owl and Eastern fox snake sightings to the contacts listed below.
o American badgers: Mary Gartshore, badger recovery team
519-586-3985
o East fox snakes: Ron Gould, Eastern fox snake recovery team
519-773-4745
o Barn owls: Bernie Solymar, Ontario barn owl recovery team
519-426-7124