By Jennifer Smart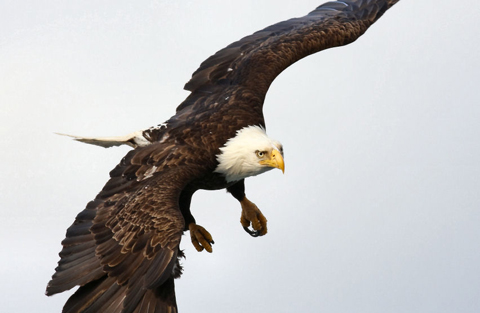 Photo: Larry Kirtley
In 2004, Bird Studies Canada launched an ambitious satellite tracking project to understand the continued challenges facing Ontario's bald eagle (Haliaeetus leucocephalus) populations, a species still listed as endangered in the southern part of the province. In 2008, the program expanded to include the short-eared owl, (Asio flammeus), a species of special concern across Canada. In both cases, unanswered questions about the behaviours and lifetime habitat requirements of the species hindered researchers in developing and implementing sustainable conservation plans to address declining populations. Using satellite technology to track the movements of these top-level predators will provide valuable information that "will be used to inform conservation action plans, species recovery plans, and contribute to the scientific literature in government reports and peer-reviewed journals," says Debbie Badzinski, Ontario Program Manager with Bird Studies Canada. In spring 2009, the project was the recipient of a $5,000 grant from the Canadian Wildlife Foundation.
The distinctive white head and brown body of the bald eagle was once a common sight in many regions of Canada. Today, this iconic species is most common in northern Ontario with a fragile but slowly increasing population in southern Ontario. As is the case with many species, the plight of the bald eagle can be directly attributed to human impacts. In addition to outright persecution, habitat loss and contamination caused by synthetic pesticides like DDT and PCB, the bald eagle populations of southern Ontario once faced total destruction. Although the population has risen steadily since the 1980s (primarily because of the ban on DDT), there is growing evidence that Ontario eagles may now be suffering from elevated levels of heavy metals, such as lead and mercury. Bald eagles do not breed until they are five years old, and their movements in the first few years of life are not well known. Since 2004, Bird Studies Canada has outfitted 24 bald eagles with transmitters to determine where the juveniles go and whether they are being exposed to contaminants during this time.
Although less well known, the short-eared owl is no less important. As another top-level predator, the health of this species is a direct indication of the health of its habitat — in this case, grasslands. "Grasslands are recognized globally as one of the most imperiled ecosystems, and accordingly, grassland bird populations have shown steeper, more consistent, and more geographically widespread declines than any other group of North American birds," notes Bird Studies Canada. Over the past decade alone, the short-eared owl population in Canada has decreased by 25 per cent. Through satellite tracking, Bird Studies Canada will be able to answer key questions related to the conservation of the species, including:
Where do the birds wintering in southern Ontario breed?
What are the lifetime habitat requirements for this species?
Are owls breeding in relatively pristine arctic and sub-arctic areas reliant on wintering sites in southern Canada, where habitat loss and degradation are ongoing?
To date, three short-eared owls have been fitted with satellite transmitters — one in 2008 and two more in the spring of 2009.
Satellite tracking results for both species can be viewed in real time using the Eagle Tracker or Owl Tracker found on Bird Studies Canada's website. To learn more about this and other ongoing projects from Bird Studies Canada, visit their website at bsc-eoc.org.