March 8, 2016
By Andrea Gardner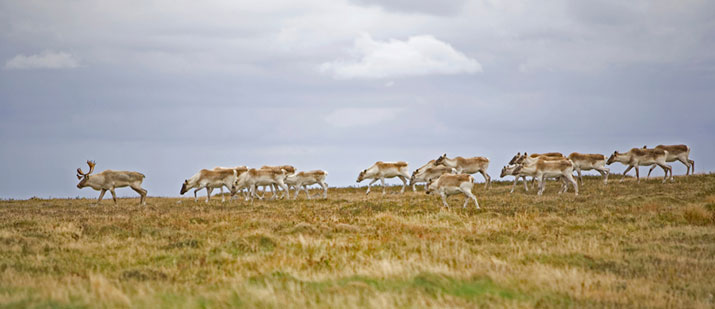 Trace Migratory Paths with WILD Migration
Our WILD Migration map features each species we've just talked about and more. Twenty, in total: a mix of walking, swimming, and of course, flying, migrators. Right now, the map is moving between schools in Vancouver, Edmonton, Calgary, Toronto and Montreal. Interested educators in those cities can inquire at education@cwf-fcf.org.
For those of us in Canada, one of the more sure signs of spring is the return of migratory birds. However, it's not just birds that make their way back and forth between homes. Yes, lots of migrators are winged, but many land-dwelling and water-dwelling creatures make seasonal moves too!
The Great Land Crawl
Plenty of animals migrate long distances across terrain every year. For instance, Polar Bears cross Churchill, Manitoba, to get to the sea ice every year– an environment that sustains their diet. They depend on this food source because their terrestrial foods preferences are not abundantly available. Melting sea ice has raised questions about the future of Polar Bears; this is one of the more visible effects that climate change is having on wildlife.
Another land migrator is the Barren Ground Caribou. There are many different migratory herds of Barren Ground Caribou – about ten in total. Most of these herds migrate seasonally, leaving the tundra for more forested areas of the boreal forest with their eyes on the prize: lichen and similar foods.
Over Our Heads
Other migrators take to the skies to make their annual journey. When Monarch Butterflies leave their warm overwintering sites to migrate north their lives are drawing to a close. As they move northward, they look for milkweed to lay their eggs on. Those eggs become larvae, then caterpillars, then butterflies – and those new Monarchs move north too, marking an interesting and unique migratory cycle!
And there is of course one bird on this sampling list of migrators: Piping Plovers live in many parts of Canada, from east to mid-west, and like many birds, when cooler temperatures arrive, they make seasonal moves to warmer climates, like Florida. Piping Plovers eat insects and invertebrates; they run along beaches and peck at random finds in their search for food.
Beneath the Surface
Ocean-dwelling migrators may be less visible to us, but their journeys are no less crucial. Bowhead Whales, for instance, make seasonal moves between summer feeding zones and winter ones, opting to stick to the Northern Hemisphere instead of going south.
Basking Sharks – like many migrators – move with food in mind. They travel thousands of kilometres southward, in search of deep-water plankton blooms. Through satellite tagging, we know that some Basking Sharks make it as far as Brazil, though their specific final destinations are not known.