February 10, 2015
By Claire Preston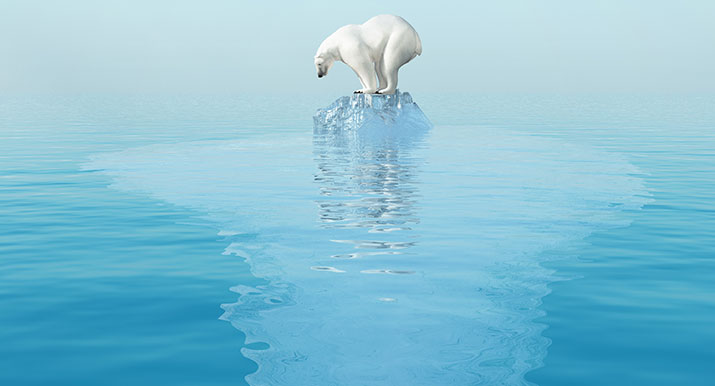 We can all agree that the polar bear is one of the most prominent species that comes to mind when we think of Arctic animals. Living in the frigid great white North, these beautiful beasts rely on the sea ice as a platform for hunting, travelling and mating. This reliance has made the 19 Canadian sub-populations of polar bears especially sensitive to Arctic climate warming, as this is having significant impact on the amount of sea ice available year round. The continual decline in sea ice threatens the long-term sustainability of this species, so the Canadian Wildlife Federation is working hard to help ensure their long-term survival by researching how polar bears are responding to declining sea ice and advocating for polar bear-friendly protective legislation.
Since May of 2012, CWF has been partnering with researchers from York University to study the feeding habits and lifestyle patterns of the Hudson Bay polar bear sub-population, with the majority of their work focusing on the James Bay area in Northern Ontario. The aim is to monitor movement, diet and body composition of these bears, as well as aid in predicting future shifts. This polar bear sub-population seems to be most severely affected by climate change – the bears are forced to move on shore with the complete melt of sea ice in summer, which limits their access to marine mammal prey and forces them to fast and rely on stored fat for energy. With ever increasing temperatures, the summer seasons are longer and force the polar bears to fast for longer periods of time. The longer summer seasons also leave less time for the polar bears to store fat and prepare for the fast they must endure.
In September 2012, 36 polar bears were captured and handled by researchers along the James Bay and Hudson Bay coasts of Ontario. From these bears, small samples of fur, fat and claw shavings were collected to perform dietary analyses. Of these 36 bears, 10 adult females were fitted with radio collars that use GPS satellites that enable the researchers to determine the bears' exact location throughout the year (these 10 bears will be tracked over three years). The same bears will be captured each year to pull tissue samples. This process will enable researchers for the first time to link individual feeding habits of polar bears with where they're travelling out on the sea ice. Gaining insight into the distribution and habitat use of polar bears will be extremely helpful in the Recovery Strategy for the polar bear in Ontario.
The first year (2012-2013) of tracking data revealed that these polar bears migrate great distances (up to 1,800 kilometres) over the sea ice to hunt. Current analysis of the tissue samples taken is allowing researchers to determine the prey species of each bear's diet (a "signature" of the prey they consume is left within the fat tissue of the bear). Researchers are comparing these most recent tissue samples to samples from previous studies over the last decade to determine changes in their diets over time in relation to changing habitat.
The expected outcomes and benefits to conservation of this research project include:
Long term monitoring of the effects of climate change on the polar bear diet
More accurate forecasting of polar bear adaptation to climate change
Accurate description of the sea ice habitat polar bears need for successful hunting
Identification of key habitat features for polar bears in Northern Ontario (this information can be used to determine and promote the conservation of land required by polar bears for these purposes)
We're looking forward to the results from the second year of tracking which will be available to us very soon! This will provide researchers with a much broader idea of what the polar bears are currently enduring in the face of climate change, and may enable further legislation and action to take place to protect and conserve this incredibly important Canadian icon.