By Terri-lee Reid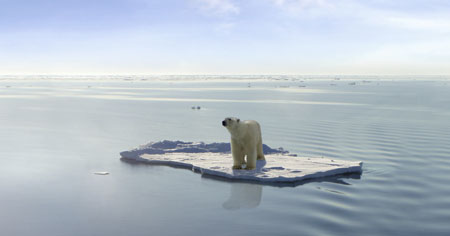 Environment Canada research scientist and guest speaker at CWF's 2008 Issues Forum, Dr. Nick Lunn, has tracked down the effects of climate change on the Western Hudson Bay polar bear population. Lunn's team has found increasing temperatures is reducing the availability of sea ice which polar bears depend on for travelling, hunting, mating and maternity denning.
The Vanishing Great White Bears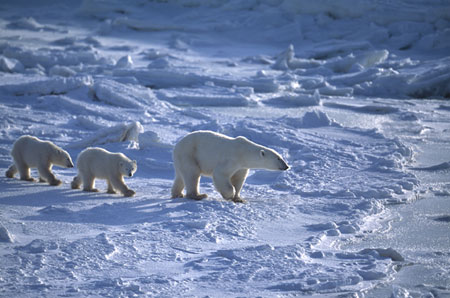 The Committee on the Status of Endangered Wildlife in Canada (COSEWIC) met in Yellowknife in April, and CWF was there to learn about the status of Canada's species that were slated for assessment, most notably the polar bear.
Using scientific, Aboriginal, traditional and community knowledge to determine the status of Canada's wildlife that are considered to be at risk, COSEWIC assessed the polar bear as a species of Special Concern.
While some subpopulations of polar bears are increasing or remain stable, others are declining. And climate change is one of the culprits for these declines in the Western Hudson Bay and Southern Beaufort Sea regions. With temperatures rising, the sea ice is starting to waste away, leading to declines in the bears' body conditions.
If the polar bear is listed as a species of Special Concern under the Species at Risk Act, a management plan will be prepared that will outline conservation measures to keep the polar bear and its habitat safe.
Breaking the Ice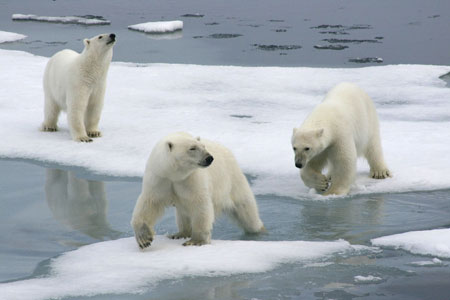 The work performed by Dr. Lunn and his colleagues has been instrumental in polar bear research. He's concluded that there has been a 22 per cent decline in the Western Hudson Bay polar bear population which he directly attributes to climate change. Thanks to his research, we've learned that sea ice in the Western Hudson Bay area is breaking up three weeks earlier than it did in 1975 with numerous consequences for the polar bears in this region.
Oh Baby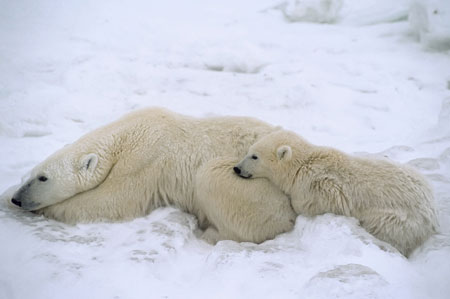 Did you know that cubs stick close to their mothers for two and a half years? As a result, female polar bears only have new litters every three years. Since polar bears breed at a slow rate, it's crucial that the cubs survive. But Dr. Lunn has found some troubling news. Females in poor condition are having a hard time producing cubs. And while females are still producing triplets in the spring, he's found these cubs are not surviving. In fact, Dr. Lunn and his colleagues have not seen triplets in the fall since 1996.
Grumbling Tummies
The early break up of sea ice means that polar bears have less time to hunt seals and build up their fat stores, causing bears to come ashore in poorer condition. This results in polar bears moving inland where they live off the fat they've stored and an inactive lifestyle (for 80 per cent of the time). When they do search for food, most try to snatch carcasses, but females with cubs might snack on grasses and berries to get by. However, the more they move inland, the more these great white bears increase their chances of becoming problem bears.