September 9, 2015
By April Overall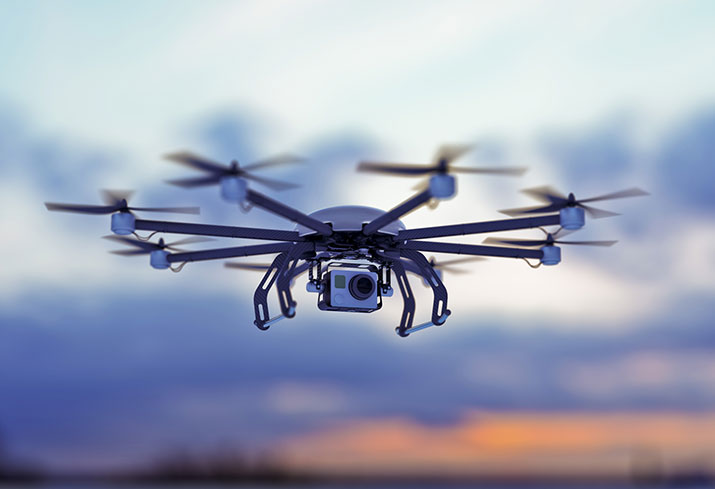 If you read part one of our drone story, you'll know just how remarkable drones have proven to be in the world of wildlife conservation. In this article, we'll learn the challenges researchers are facing whilst using this technology, as well as the amazing potential this technology offers to the conservation domain.
The Bad News
It's not all rainbows and puppy dogs when it comes to drone research. In fact, drone developers and conservationists that rely on drones for their research have had their fair share of hiccups.
Drones Have a Bad Reputation
Blame the media, movies, and that guy down the street who started using a drone for his YouTube videos without getting a license. So many people are worried about the use of this technology, and how destructive it could potentially be. And you can't blame them for worrying. That said, the story is a little one-sided. We could definitely gain from learning about all the positive work being done with the use of drones. Did you know that drones are being used to save lives, look for breaks in power lines, fight forest fires, and of course, conduct wildlife research?
Dr. David Bird, an Emeritus Professor of wildlife biology at McGill University and the Founding Editor of the Journal of Unmanned Vehicle Systems, alongside his colleague, Paul Pace, a retired Canadian government drone expert, , are working together to give drones a better face in the public as a useful technology and not just a destructive one. "[Drones are] here to stay," says Bird, "but how fast they move along depends on how well we can demonstrate they're not going to cause harm to people."
The Government Has Strict Regulations for Drones
The use of unmanned vehicle systems is currently governed by Transport Canada. And according to Bird, the biggest hurdle is that people are not allowed to fly [drones] within nine kilometres of a built up area. You have to have liability insurance and you need a special flight operation certificate to fly a drone. "It's a complex thing," says Bird, "What we wildlife biologists would like to do is fly beyond line of sight – to do a survey of whales in the water , , count caribou in a herd…you can't always be right where the wildlife is. Getting permission for this type of work is pretty difficult unless you're working in a remote area or where you can control the airspace."
The Shipping Costs an Arm and a Leg
Whether you're studying polar bears in the Arctic or caribou in the boreal, you have to ship your drone to the location. The batteries that drones require are considered dangerous since they can combust, so as a result, researchers must ship them in special containers. And it costs a lot of money to do that.
Location, Location, Location
Capturing images and data of wildlife is no easy feat. Their habitat can be rough and remote. As a result, your drone takes a beating from the elements. If you're attempting to capture images on the coast for example, you might be dealing with 30 km an hour winds – causing your drone to be blown about and resulting in fuzzy pictures. Moreover, anything can go wrong. If your drone lands in the water or if it crashes into rough terrain, it'll likely be destroyed.
The Good News
If these setbacks are factored into the design of this technology and regulations ease up, we will be able to truly see the potential of these remarkable tools.
What's Next for Drones
Drone researchers are hard at work coming up with new models that will make drones ideal for wildlife conservation research. The latest developments include:
Insect-like drones that are particularly hardy and less likely to break apart on impact.
New vision-based navigation systems that allow drones to circumvent obstacles (leading to fewer impacts) ideal for beyond the line of sight research.
Adding bird-like legs to drones which allow them to perch on branches – perfect for bird research!
Drones that use thermal updrafts to glide like albatrosses.
Solar-powered drones that no longer require landing to refuel.
Drones that move in harmony with one another (without bumping into each other) like a flock of birds would.
Pretty impressive, right? Dr. Bird has two more ideas for drone developers to contend with.
Terrestrial Drones – "Seabirds and burrowing owls nest underground. So it's hard to tell how many babies they have, or how many eggs they have laid," says Bird. "We want to create a drone with a light, a camera and wheels attached to it that has the ability to go inside the tunnels. One that could navigate around corners and relay to researchers exactly what it views – including how many young are in the nest."
Underwater Drones – Researchers are already developing and using underwater drones – they used one of these to find the Franklin expedition ship. So there's no reason why we couldn't use these drones to learn more about how aquatic animals behave underwater, says Bird. "We know little about what common loons and otters do under water, or how they catch their food. If we can take video of what they are doing, and what exactly they are eating, we'd learn so much about these species," says Bird.