December 23, 2013
By Claire Preston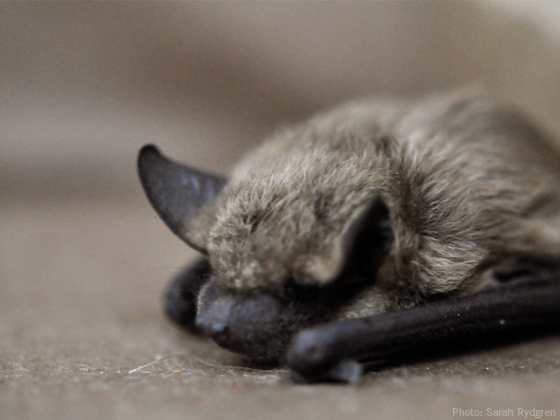 In 2013, the Canadian Wildlife Federation put forth a nationwide petition to urge the government to list the little brown bat and two other bat species under the Species at Risk Act (SARA). Adding these bat species to SARA would provide them with legal protection, initiate the development of a recovery strategy and address the immediate threats of white nose syndrome. CWF was thrilled to join over 2,000 supporters who added their voices to the petition in an attempt to press this matter to the government and prompt immediate action.

The petition indicated that experts from the Committee on the Status of Endangered Wildlife in Canada (COSEWIC) performed an emergency assessment on the status of the three bat species to get them added to the SARA immediately (something that has only happened once or twice since COSEWIC was founded 30 years ago). All three species were deemed Endangered during this assessment, which was made in February 2012, and yet there has still been no word from the government about what they plan to do in this situation. As nothing had been done publicly to help these bat species, CWF decided to launch the petition in an attempt to get the ball rolling.

CWF was very hopeful that this petition would set in motion the necessary actions to get these species listed under SARA. Though this petition did catch the attention of Leona Aglukkaq (the Minister of Environment), it did little to stir up any new commitments from the federal government to protect these bat species. Environment Canada has already pledged to provide the essential funding to address the threat of the white nose syndrome; over the next four years, $330,000 will be contributed to the Canadian Cooperative Wildlife Health Centre to study the disease and develop a national coordination in response to the threat. Although this is a step in the right direction, listing would have provided immediate legal protection and a much more solid commitment to developing a strategy for the species' recovery.

These bat species are ready to be listed, and we need the help of the government to put the wheels in motion to stop the decline of these populations. Currently, populations of these bat species have declined by as much as 99 per cent within two years of exposure to white nose syndrome. SARA is in place for the very reason of ensuring that species do not run the risk of becoming extinct in Canada, but without the support of our government in getting these bat species listed under SARA we could face losing these creatures from our rich tapestry of wildlife. It's been almost two years since the original assessment of these bat species was made, and still we wait for action and their legal protection under SARA. Time is running out, and these little guys need all the help they can get to ensure their survival.