January 10, 2012
By Annie Langlois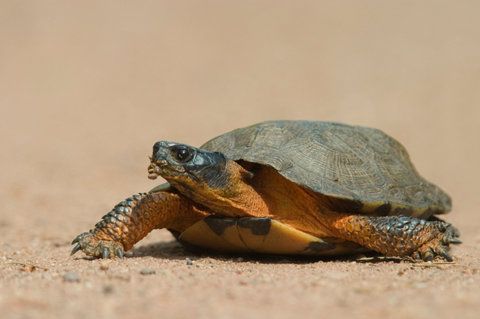 Studying a species at risk is rarely easy. For some species, just finding the creature in the wilderness can be somewhat of a challenge! The elusive woodland turtle is such a creature. Indeed, this greyish-brown, medium-sized turtle may be hard to spot in its habitat, which could be one of the reasons researchers do not know exactly how many there are in Canada.

The woodland turtle's distribution includes Ontario, Quebec, New Brunswick, Nova Scotia and the northeastern United States. The woodland turtle is semi-aquatic, mating and hibernating in small rivers or streams but spending a great deal of time on land. It nests in sunny spots close to water and can wander up to 300 metres away in the forest, meadow or field.

Latest estimates show an overall population of between 6,000 and 12,000 individuals in Canada, but these numbers are very approximate. The more remote populations might be stable, but those that are accessible by road have been showing a decline in the past three generations or 100 years, especially in Ontario and Quebec.

Indeed, threats to this species mainly derive from the fact that more and more people have access to its habitat. Increased mortality due to road traffic, agricultural machinery and all-terrain vehicles and habitat loss due to watercourse bank alternations, flooding and shoreline stabilization are the main reasons for this decline. These threats, amongst others, have caused the species to become Threatened under the Species at Risk Act in Canada. But before we can act to protect a population, researchers need to know exactly how many turtles they are dealing with and where they hang out!

That's what the Clean Annapolis River Project (CARP) has set out to do. This environmental organization's goal is to protect the Annapolis River watershed in Nova Scotia. And even though very few woodland turtles have been spotted in the area, CARP is certain that there are more, since possible habitats have been spotted in the watershed. With critical funding from Canadian Wildlife Federation, CARP is working hard to discover just how many woodland turtles there are in the watershed, what they are currently doing (nesting, overwintering, etc.) in the area and what habitat types they prefer. This data will help us better understand the species' ecology and how to focus conservation efforts in the future.