April 17, 2012
By Louise Hanlon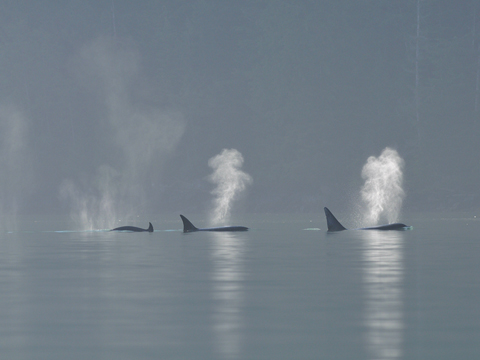 Whale entanglements off the coast of St. John's, Newfoundland, just got a little help thanks to a cash infusion from the Canadian Wildlife Federation.

This year, CWF held its 50th Annual General Meeting in St. John's. To commemorate this milestone meeting, CWF joined forces with the Whale Strandings and Release Group of Newfoundland and Labrador to deliver an outreach program to schools and summer camps educating children about large marine animals, including whales, turtles and sharks, that inhabit the surrounding ocean and the challenges they face. CWF will also provide the Whale Strandings and Release Group with equipment to disentangle large marine vertebrates from commercial fishing gear.
A day at the office for Mr. Ledwell can mean dunking his head in the water for hours to untangle reams of rope, netting and buoys wrapped around a potentially dangerous 40-tonne animal.
His job is as unusual as it is dangerous, and he has travelled as far as hundreds of kilometres offshore to free animals by removing all rope and netting from their bodies. Whale entanglements became less of a problem after the cod fishery closed in the early 1990s, but Ledwell said the issue is resurfacing as whales encounter more and more gill nets, especially off the south and west coasts.
"It's like a challenge between you and that rope. But I'd never get into the water with the whale. There's too much that could go wrong," said Mr. Ledwell. "I want fisherman to know that they can call me when a whale, turtle or basking shark – alive or dead – gets tangled in their gear and there's no cost to them. I can save them money and frustration and hopefully save the animal too."
During the course of his career, Mr. Ledwell, has saved the lives of numerous whales and dolphins caught in nets, trapped in ice or beached on land. His book, Whales and Dolphins of Newfoundland and Labrador, an educational guide to the whales and dolphins seen throughout that region, was published in 2005.
Wayne Ledwell is a former fish harvester from Calvert, a community on the southern shore of the Avalon Peninsula in Newfoundland. He earned a master's degree in marine management from Dalhousie University and has been involved in releasing whales and other marine animals from fishing gear since 1988.

Whale Release and Strandings is a non-profit group that responds to whales, leatherback sea turtles and basking sharks entrapped in fishing gear or ice or stranded on the shoreline. The group, led by Wayne Ledwell and his wife, Julie, also conducts research projects and provides education outreach to fishers, community groups and schools on marine animal life in Newfoundland and Labrador waters.

This partnership came through CWF's Footprint Project, an endeavour undertaken each year in conjunction with the CWF annual general meeting. Its goal is to leave a lasting, positive "footprint" in each of the cities that host the meeting.