By Annie Langlois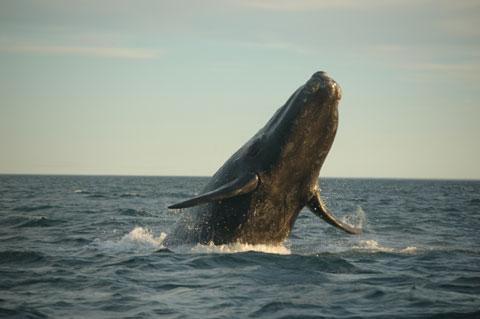 For hundreds of years, the North Atlantic right whale was indeed the "right" whale to hunt. This slow-moving, stocky whale was not only easy to catch, but it also floated for a while after being killed because of its thick blubber. It is thought that in 1937 fewer than 100 of these whales remained. Now, more than 70 years since the ban on whaling came into effect, the North Atlantic right whale is still likely the world's most endangered large whale. There are only about 450 individual North Atlantic right whales remaining and the population is not recovering as quickly as they should. This is one of the sad facts that has lead the North Atlantic right whale to be listed as Endangered by the Species at Risk Act (SARA).

Researchers are not only trying to find out ways to make the recovery of this species a reality with the help of conservation actions, but they are also trying to discover why the species' health and numbers have not been improving since hunting has been banned.

We know some threats: right whales swim at slow speeds, stay near the surface of the water and keep close to coastlines, making them easy targets for collisions with ships and entanglement in fishing gear. The whales may also suffer from habitat degredation due to human-made chemicals that are released into the ocean.But we don't understand all the threats to this majestic species. Researchers have found that the North Atlantic right whale's reproductive rate is currently about three times lower than what is normal for the species. This means that many females do not reproduce successfully or are known to have given birth to only one calf. What's causing all this? We'd like to know!

This is what Dr. Timothy R. Frasier, from the Department of Biology of Saint Mary's University in Halifax, is trying to find out. With the help of the Canadian Wildlife Federation, he will test the hypothesis that the small number of individuals available for reproduction is the cause of the right whale's reproductive issues. But he will also explore what other factors are at play. For example, poor environmental conditions may be making prey scarce for the right whale, leading to underfed females. Moreover, low reproductive success is common in species with small populations because of higher instances of inbreeding – genetic similarity between mating males and females may hinder fertilization and can also cause calves to have health issues at birth. To figure out the impact of genetics on the North Atlantic right whale's reproductive issues, Dr. Frasier will gather DNA data from whales' skin samples. Analysis of the data will tell us if genetic factors play a major role in the species' recovery potential. The more we find out, the closer we will get to a plan that will bring the North Atlantic right whale back to our waters!