By Jennifer Smart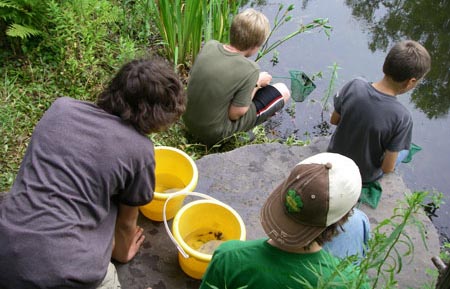 Photo: Philip-Edouard Shay
Blossoming frog enthusiasts in New Brunswick will soon have a new tool to help them identify the province's nine frog and toad species. Aided by a $2,700 grant from the Canadian Wildlife Federation, Nature NB is producing a poster and field guide to introduce beginners of all ages to their amphibious neighbours.
The full-colour, bilingual poster highlights each species through photographs and common and Latin names. An information panel on the poster provides general facts about frogs and their importance to native ecosystems. The accompanying field guide takes a more in-depth approach to frog identification by providing more descriptive information, pointing out key features and describing the calls and habitats of each species. Although geared towards youth aged six to 12, the kit is useful for anyone looking to learn about frogs.
The global decline of frog populations and the importance of frog conservation has been highlighted in 2008 through the public awareness campaign Year of the Frog. As an important indicator species, the presence of frogs speaks to the health of an eco-system — particularly as it relates to water quality. By introducing and educating New Brunswick youth on provincial frogs, Nature NB hopes that they will be able to foster a generation committed to their conservation.
As of the release of this newsletter, the production of the guide and poster was in the final stages. The full kit should be available in spring 2009 and is available free-of-charge to members of Nature NB's Young Naturalists' Club, students in the public school system and interested individuals.
To request your copy, contact Nature NB through www.naturenb.ca or by phone at 1-506-459-4209.
Wanting to help backyard frogs in your province? Visit WildAboutGardening.org for tonnes of tips on frogs!