By Cooper Langford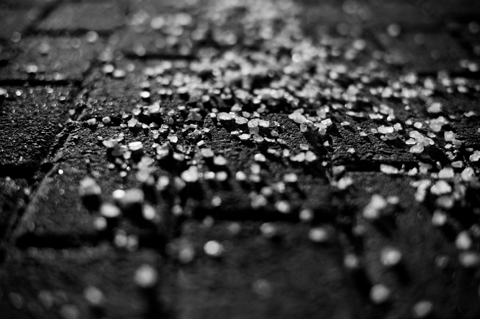 To salt, or not to salt? That is the question as winter settles in, once again raising the risk of slips and falls on icy sidewalks and driveways. Many people spread rock salt around their homes to reduce risks. But salt runoff is hazardous to local water systems. So before you start sprinkling, consider these tips.
Salt Early
Salting works because it prevents ice from binding with the pavement underneath. If you can prevent this bond from forming, ice will be easier to clear by shovelling, which is your greenest ice-control alternative.
Know Your Product
Many de-icers are marketed as green products, but be sure to read the labels before you buy. Chlorides, which are cause for serious environmental concern, are the key chemicals in most mixtures. Even green products will have them, so follow the directions carefully to minimize your impact.
Drain Properly
Know the drainage around your property, and make sure that water from the snow you clear doesn't flow back onto walks or driveways. If it does, you're simply creating more ice out of the stuff you've already cleared.
Wear Good Boots
If you have proper winter footwear, you'll be at less risk of slipping and falling, thus reducing the need to use salt-based de-icers. Dressing for the season may be the most environmentally sound choice you can make.