March 8, 2016
By April Overall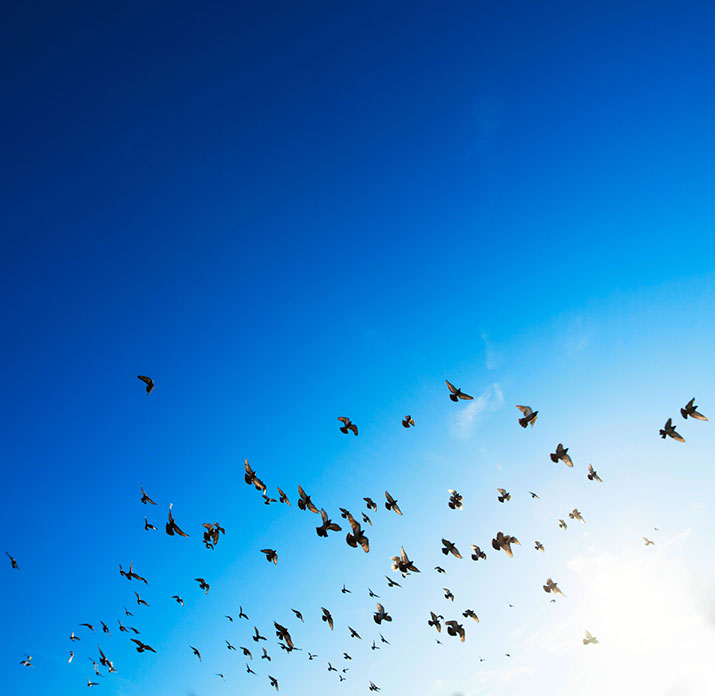 Join CWF on April 12 for our B.I.R.D. Initiative
During National Wildlife Week, CWF is teaming up with FLAP Canada on our Bird Impact Reduction Day (B.I.R.D.) initiative, raising awareness of the problem of bird/building collisions and sharing information on how we can all help reverse this threat to our winged species. On Tuesday, April 12, we'll be asking office buildings and corporate towers to turn off their lights for one evening in a show of support for the safety and wellbeing of our migratory birds. As homeowners, there are also steps you can take to help prevent bird fatalities. Go online to learn more; get full details about CWF's B.I.R.D. initiative at nationalwildlifeweek.org.
Birds have migrated for centuries along very particular migratory routes. Unfortunately, as our cities and suburbs have expanded, as our buildings have reached greater heights, birds have stayed the course – to their peril.
According to FLAP Canada, ornithologists can now identify collisions with human-built structures to be a leading cause of death for birds in North America. It's true. Every year, approximately 25 million birds fatally collide into the windows of homes, offices, stores, cottages and buildings in Canada. Sit with that number for a second. Let it sink in. 25 million. That's roughly 50 birds every minute.
When you're flying at up to 50 kilometres an hour, you don't have much of a chance of survival when you strike glass head on. In fact, most birds die upon impact due to brain damage. The statistics are staggering and heartbreaking. But you're part of the solution to this problem. You can do something. Keep reading to find out just what that is.
Daytime Debacle
How many times have you checked your reflection in a store window as you've waltzed past? (Looking good, by the way.) You do this – we all do this – because you know what you're looking at is indeed your reflection in glass. Birds, on the other hand, don't have the capacity to understand that the reflection they are seeing - of trees, sky, and water – is not actually their habitat. As a result, birds will often fly straight into the windows themselves. While many die on impact, others will become injured and fall prey to predators, and others still will become stunned and fall to the ground. When these birds come to they will find themselves in a maze of reflective windows and they may even crash into a building again in a panicked attempt to avoid humans.
Night Fright
As migratory birds make their way home to Canada, they often do so under the cover of darkness. But when bad weather hits — particularly high cloud cover, precipitation or fog — these birds are forced to fly at lower altitudes where they'll be attracted to tall lit buildings, communication towers, light beams at airports, floodlit obstacles and lighthouses. In Toronto, FLAP has found over 140 species of birds that have collided with buildings, including white throated sparrows, ovenbirds and common yellowthroats. Half of these birds die of head trauma, broken beaks or feather damage. The lucky ones that survive a collision can easily become trapped in streams of artificial lights — flapping in the beam until they collapse from exhaustion or become disoriented.
Give a Bird a Break
Do draw the blinds during the day with the slats open.
Don't let vanity lighting like rooftop floodlights burn into the night during periods of migration. If you must use them, use red strobe red lights, which researchers have found birds to be less attracted.
Do install motion sensitive lighting.
Do think about where you place your birdfeeders and birdbaths. The best place for them is either half a metre or less from windows since birds won't be able to gain enough speed to hurt themselves if they do hit the window, or really far away from your windows (more than 30 metres away is best).
Do turn off overhead lights and use task lighting.
Don't use overhead lighting without closing the blinds.
Do swap mercury vapour bulbs for sodium bulbs — lights with a yellow undertone are less attractive to roaming songbirds than whitish blue lights.
Do campaign to switch off lighting systems from 11 p.m. to 7 a.m. in your office and apartment buildings. It'll also save you energy and money! Bonus!
Don't keep your houseplants next to the window. They might think they can land in them.