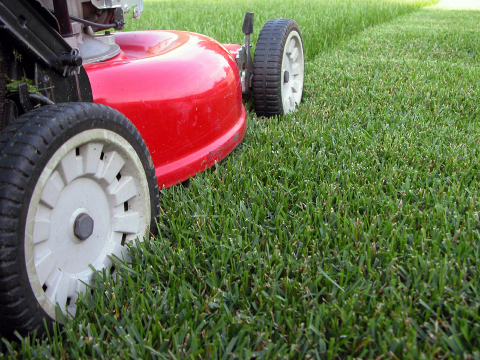 Cut the grass at a height of seven to ten centimetres (three to four inches), removing no more than one-third of the grass length at each cutting. What most homeowners don't realize is that the height of the grass is proportional to the depth of its roots. You need healthy roots and leaves to have a healthy lawn. Grass growing in shade requires a particularly long leaf blade for greater sunlight gathering and therefore food production. If you cut the grass too short you work against the plant by:
Reducing its ability to make its own food through reduced collection of sunlight and carbon dioxide from leaves.
Decreasing the plant's ability to get water and nutrients from the soil because of shallower roots.
Increasing recovery time after periods of drought and dormancy.
Weakening the grass and making it more susceptible to weed and insect problems.
Allowing more sunlight to the soil, which can cause sensitive roots to burn, weakening or killing the plant and allowing weeds to move in.
Letting moisture evaporate more quickly, requiring more time and money to water the lawn.
Be sure to keep the lawn-mower blades sharp to minimize stress on the plants. Paul Sacks, author of Handbook of Successful Ecological Lawn Care, recommends getting blades sharpened after eight hours of cutting. Check with the local hardware store to see if it offers this service.
Leave grass clippings where they lie. Grass clippings are decomposed quickly by soil organisms, providing free nutrients to your lawn. (see Lawn Care - Fertilizing for details) Thatch from clippings is usually a problem only if your soil is very low in microbial activity or you've just cut extremely long grass. If you do get large clumps, mow again to break them up. If you need to encourage more soil organisms, avoid pesticides — both chemical and organic — and chemical fertilizers. Instead, apply good rich compost to the earth to increase their numbers quickly.
If you don't want to keep your clippings on your lawn, rake them up and put them on your compost pile or use as mulch in your garden beds.